Discussion Starter
·
#1
·
I will apologize in advance, as I know that somewhere in the vast archives of this wonderful site these questions have surely been asked. I can only hope I don't get a bunch of responses saying, "Try Google", "Did you search the forums". I'm knew to this site and haven't seen much of that going on but my experience with forums is more automotive related and the people on there can be a little rough to "noobs" asking "silly" questions.
I've been reading almost non-stop for the last several days (well for several years actually, just more intense as of late) and have gathered a ton of information on the forum here and a few other sites. Too much information actually and my head is spinning.
A little background on the project:
I just finished building my speakers, which are GR Research AV-3 Towers, an AV-3S and 4 AV-1RS's. Here are a few pics.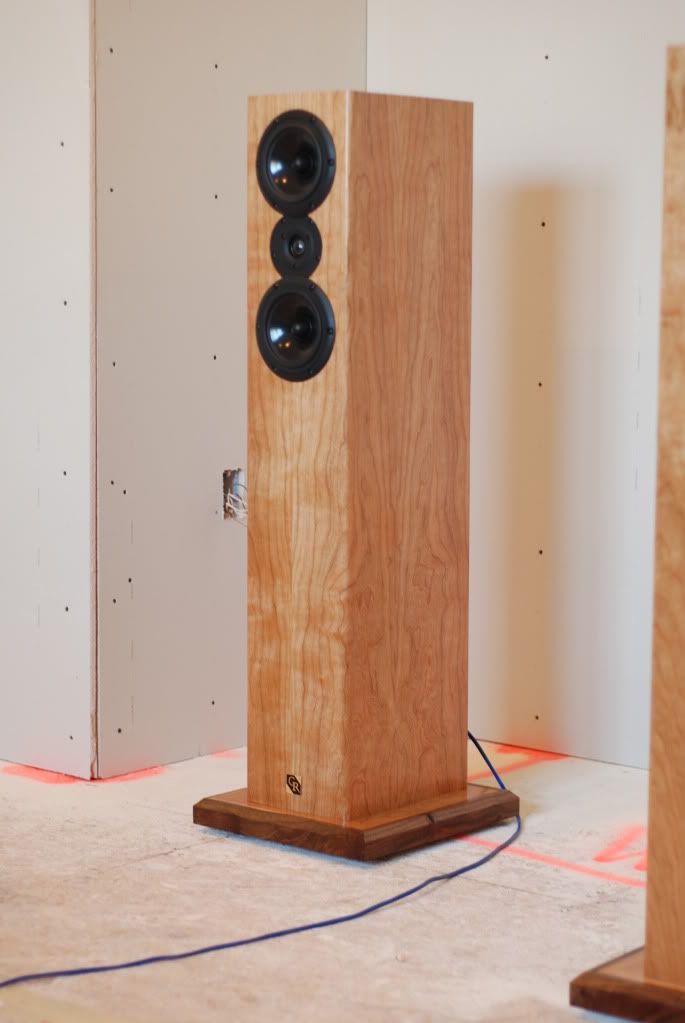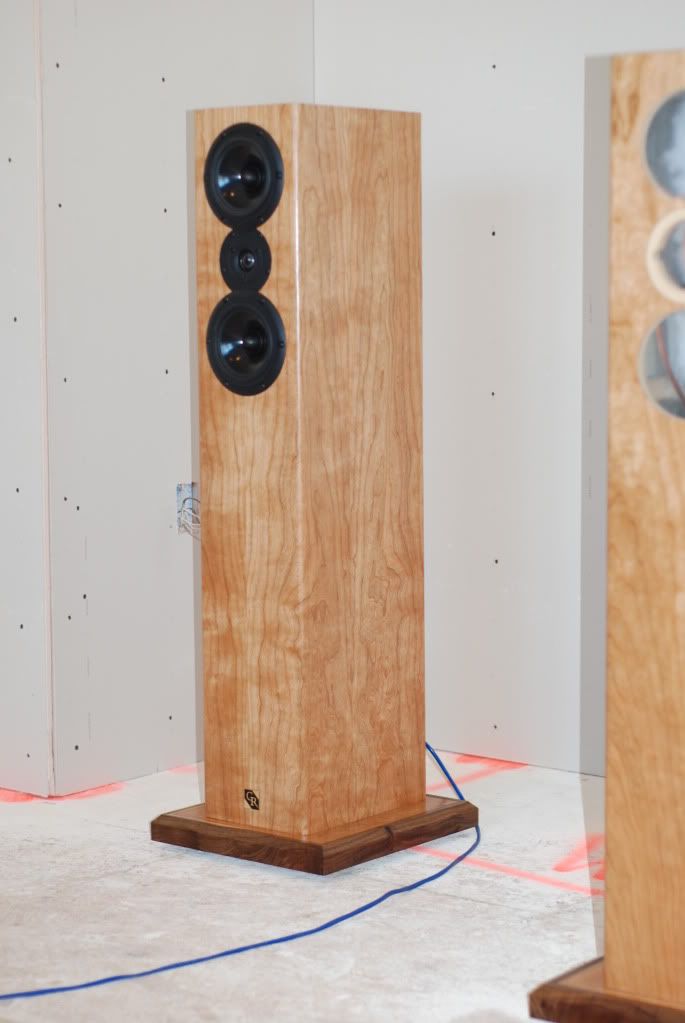 I've also added a second layer of sheetrock to my walls and applied Green Glue between the layers.
I am getting ready to build my sub/sub(s), not sure if I will do 1 or 2 but someone can chime in if there is an advantage to have a pair vs. one.
The room is 20'x17' with a 9' ceiling. There is an area that protrudes (closet of master bedroom behind there) that makes the front stage area 15' wide. Also of importance, it's on the second floor above my garage.
I'll be using an Optoma HD70 (It's what I have) and was planning on doing a DIY screen (Painted with
http://www.liquiscreen.com/
).
I am on a tight budget so everything will be done by myself and as cheap as possible. I can build anything, which helps of course.
1) I want to build a stage up front even if it's just cosmetic but need to know what I should do about filling the cavities. I know why sand is so valuable and that decoupling is as well. I've read a lot on this but still can't find out what to do if you are building a stage on a second floor joist system room. Do I fill the areas with sand where the speakers will rest? Do I isolate these sections from the rest of the stage so that there is a, let's say 1/4" or so gap between them? Do I use a product like
http://www.roxul.com/residential/whe...e+theatre+room
in the cavities? I'm pretty confident that some sand will not be a problem as the wall where the stage is directly over an enormous weight-bearing joist and is a sheer wall to boot. I do NOT feel comfortable filling the entire stage with sand though, not without talking to a structural engineer. Lastly should I decouple the stage with these?
http://www.soundisolationstore.com/j...rs.html#topic1
2) Riser- I am planning on building a riser at the back of the room that will be approx 14" high and 20' wide with a depth of approx 7'. Is it necessary to decouple the riser? Can I get away without decoupling it? Fill it with what material? Safe'n sound or regular fiberglass insulation? Does it need to be vented/ported in the front for acoustic purposes? Any advantage to putting a few layers of OSB/Plywood with green glue between the sheets?
3) Subwoofer placement- It seems like most suggest a more center stage position due to the troubles of corner placement. I could set the sub to the left or right of the center speaker since I am building it myself and can design the enclosure to meet my needs.
4) Seats- I was originally planning to place the rear row very close to the wall since the depth for viewing is only 17'3" and being that I thought 7' for riser depth would be =necessary for the recliners to work correctly it only allows about 9-10 feet of viewing distance for the front row (never plan to sit there, will be more for kids) but I'm wondering if I need to rethink the riser depth or make any adjustments. The room orientation is such that if I have the room rotated 90 degrees so that the viewing distance is in the 20' dimension it either puts the doorway on the rear seating area and greatly reduces the width of the rear seating since it's the area where the closet protrusion is and makes the rear riser a mere 11' in width or the screen ends up on the wall where the doorway is.
5) Acoustic treatments- I am really struggling here. What should I be doing with my walls? I understand where to place some of the acoustic panels (mirror trick) but the front stage area I assume needs some sound absorbing properties on the entire wall? What if the screen is painted on like I plan to do, does this cause any issues with sound bouncing back off the back wall from the front speakers? What materials should I be considering if they are needed to treat this wall (I'm cheap remember
) Should I be covering the walls with carpet part way up, fabric, etc? Can I just texture the walls and add acoustic panels where needed?
This is enough. I feel like it might be too many questions to start with but if I can get a few answers I would be very very grateful to you experts. Thanks in advance!!!!!