Discussion Starter
·
#1
·
I want a sub for TV and Movies. Minimal music. I like clean and tight base, but I can't have too much base and
it needs to play well at lower volumes.
I have several already in consideration, and welcome suggestions.
My room (to be frank) sucks for HT, so I'm not looking for a dream here. Just some opinions
Green = speakers/sub
Red = couches
Blue = windows (and yes I'm dressing them with heavy blackout)
Grey = fireplace
Black = TV (Samsung 60" 7100)
Orange = just measurements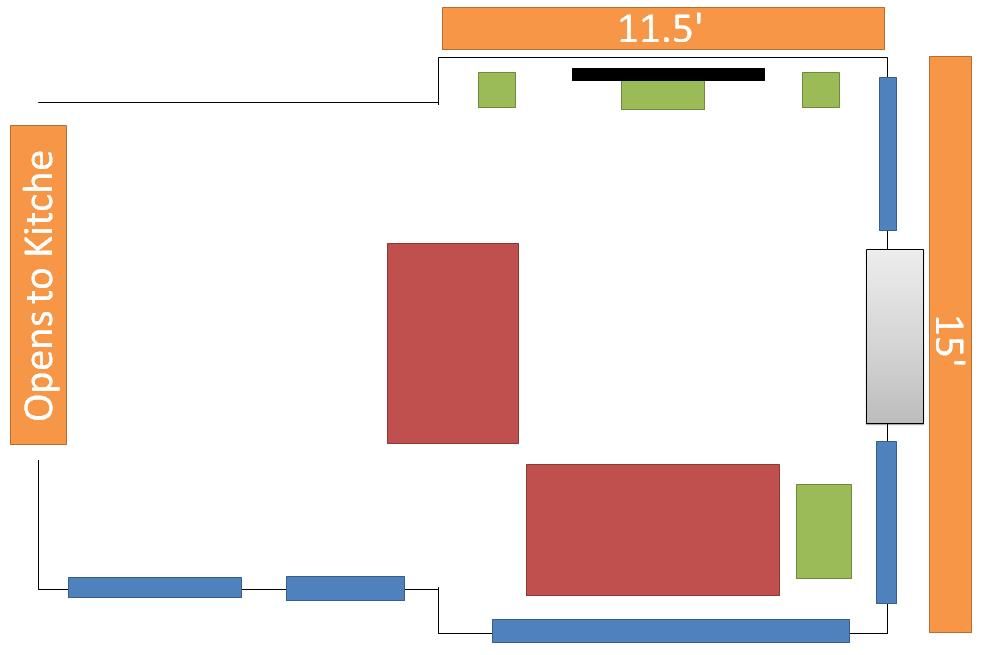 Basically, I think I can only put the sub in the location above b/c of WAF. Maybe to the right of the TV if smaller (like sealed)
Let me repeat, I'm not a base head. I don't need to be shaken out of my seat. I just want to be smart with my money (~$1000 on sub only).
I don't want to pressurize the entire house.
Room with the TV is open to the left. It is 1550 cubic feet. (11.5 x 15 x 9)
Room to the immediate left is another 1380 cubic feet (12.5 x 12.25 x 9) (2930 cubic foot so far)
Room to the left left (kitchen without the 'n') is easily another 1400 cubic feet. (4330 cubic foot with kitchen...and then it opens to stairs and second living room and foyer)
Like I said, don't want to pressurize all of that. Just want decent movie watching pleasure in the main TV area.
I'm giving all Hsu examples, but my question applies to most brands I guess.
So, would something like a VTF-15H turned down be better than a VTF3-MK4 played loud?
Should I look at a sealed sub like ULS 15 b/c I don't want to have the bass all over the house? Maybe if sealed, I could place to the right corner of the TV?
So I guess I'm asking...
Not a bass head, which type of sub for Movies without blowing up my house
1. Ported big sub not turned up?
2. Ported smaller sub turned up?
3. Sealed sub for more localized sound?
TIA!