Discussion Starter
·
#1
·
My old receiver had the terminal connectors for the subwoofer and the replacement (not new) receiver has a RCA style subwoofer connector. The subwoofer has an AC plug.
My question - is it possible to splice the wires (using an old RCA plug as a donor) from the subwoofer to the RCA plug? Hopefully this makes sense.
Here's a diagram of what I'm working with: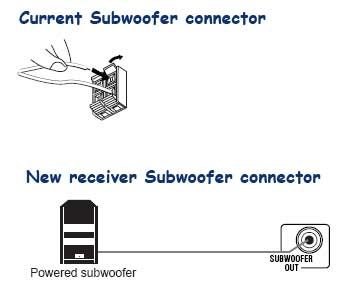 Would this be possible?:
-- Edit --
As I'm looking for an answer, I just came across these cables below. I'll have to check when I get home how the wires connect to the back of my powered subwoofer, however, I do believe it has standard wire terminals, not RCA connectors. Would it be possible to use a cable (like below) and cut off the red and black connectors and connect those bare wires straight to the wire terminals on the back of the subwoofer (and connect the end with the single RCA plug to the receiver)?
I found this on Ebay. This is basically what I'm looking for an wondering if it would work.