I built a Martycube with a Stereo Integrity 15" D2 woofer. Its wired to be a 4 ohm load. It is driven by a Dayton SA1000 plate amp. I have an Integra DTR 5.9 which just has Audyssey 2EQ. I plan to hopefully upgrade later this year to a Marantz 7008 or 7009 with XT 32 and SubEQ in it.
I've gotten the sub somewhat dialed in with my MiniDSP (using REW and the UMIK 1 mic) in ONE position and it sounds quite good throughout, but I'm wondering if I can do better.
Here is my graph: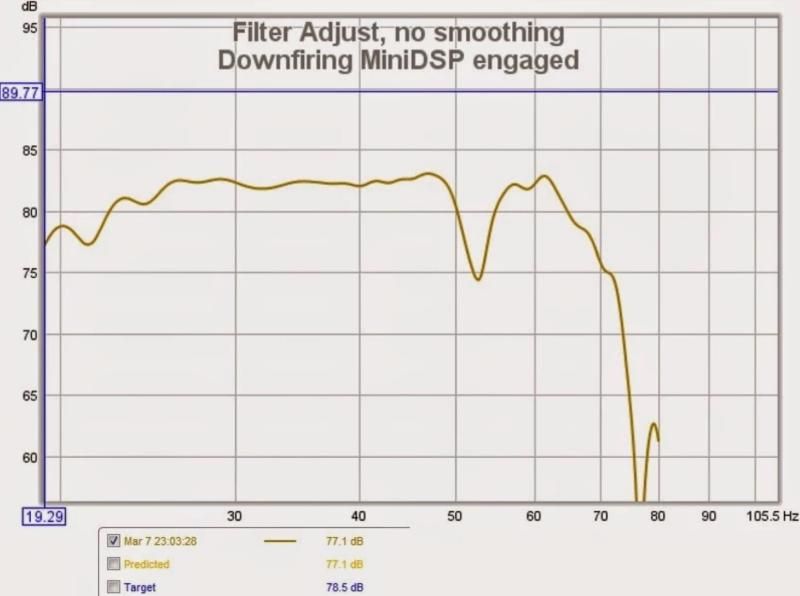 I'm aware that the SVS AS-EQ1 gets some VERY decent reviews and that its supposed to be the equivalent of the SubEQ that most XT32 AVR's come with. But right now, I am looking at around 6 months or more until I can get that new AVR.
So I'm debating replacing the MiniDSP with the AS-EQ1 and using the MiniDSP in my stereo system. Here is what I'm trying to figure out.
1. I am aware I need a high pass filter around 18hz for my sub to keep it under control. I can set that in the MiniDSP. On the Dayton there is a subsonic filter which currently is OFF. IIRC that filter is a 20hz 12db rolloff... How much SPL am I going to lose by moving my high pass filter from 18hz to 20hz?
2. Is the AS EQ1 better than the SubEQ in the XT 32 AVR's or would it become redundant at that point to where I should just sell the AS EQ1.
3. Additional thoughts/suggestions?
The MAIN thing I like about the AS EQ1 is that its a set and forget thing with multiple measurements taken and then it spits out a final graph.... I cant tweak it much unlike the MiniDSP, but then again I dont have to spend a ton of time doing the tweaking.
Also like the MiniDSP it can EQ up to 2 subs, which tweaking 2 subs responses via REW isnt something that I see as being NEARLY as easy as a set and forget solution.
The SMS-1 and Antimode 8033 have been ruled out so lets keep it to these two devices....
Thoughts MUCH appreciated....