Current State
FINISHED!
With construction, not the equipment, of course.
Fabric ceiling
Closer shot of the fabric ceiling from the riser facing the screen wall
Overexposed this picture on accident and didn't realize it until after I posted it.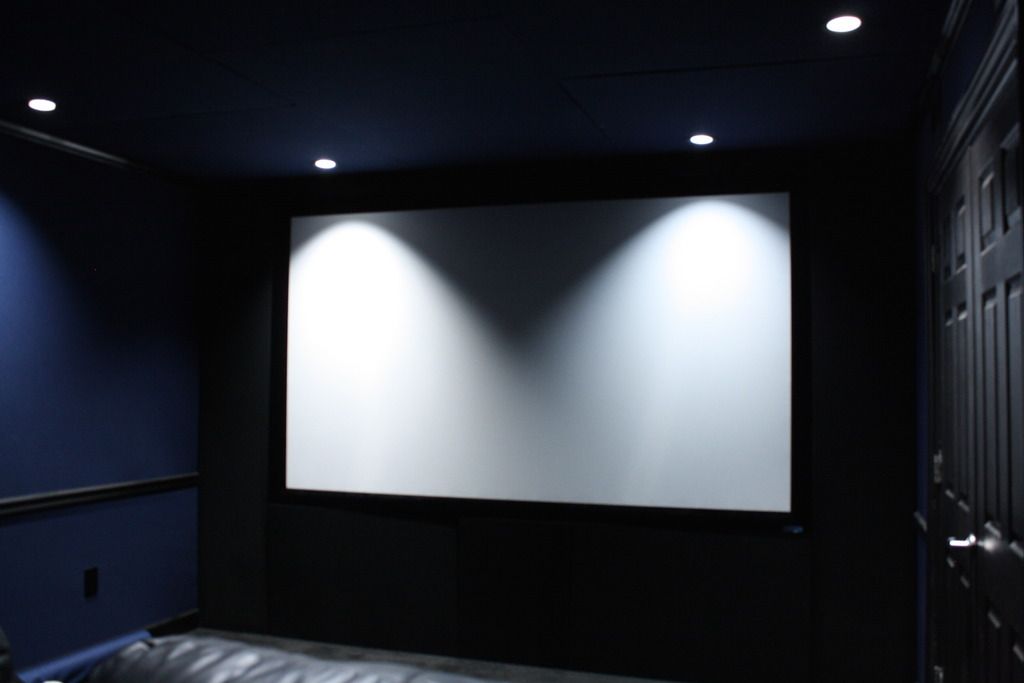 iRule Screenshots
Kodi Media Server Screenshots
The Beginning
My wife, kids and I moved into this house in 2006. We had several choices of homes but I picked this one because it had a formal living room that measured 19' x 12'. It was the perfect size for a theater. The reason I came up with the name of this build is from 14 or 15 years ago when I purchased my first pair of M&K LCR-75's from a shop in Santa Maria, California. I was in the Air Force back then and my wife and I had no money and we were barely old enough to buy a lottery ticket. It was income tax season, I had a little extra money, so, being an irresponsible moron like most 19 or 20 year olds, I decided to take my extra money and buy speakers. I couldn't help myself. I fell in love with the look of them before I heard them. Luckily, they sounded phenomenal too. But back to the reason for the title. They were priced at $375 a piece. I couldn't afford that so they sold me the floor models for $300 for the pair. After getting out of the military, I left the Central Coast of California and moved back to the armpit of the United States (Beaumont, Texas). I found a career in the restaurant business and then began my obsessive and disruptive pursuit of completing my full M&K surround sound speaker system. I found a dealer in Houston that sold me a floor model of the Center 750 for $250 in 2003. For a short while, M&K had a b-stock store right before they went bankrupt. I was lucky enough to pick up a pair of $599 Surround-550's for $400 shipped. Probably 4 years later, I found a pair of small LCR-45's for my back surrounds on eBay for half off of MSRP. The matching 550's were very hard to come by for a year or 2 after M&K went under. The 45's were too small for the rest of my system so I went on a search for the final pieces of my decade long journey to complete this damn speaker system. I would have been finished a while back if Dolby and DTS hadn't decided to add 2 more channels in the rear. But nonetheless, I finally found a pair of Surround-550's last year with the help of some guys on the Official M&K thread. Paid $350 shipped. Through the last 14 or 15 years, I've somehow managed to turn into this ever so patient speaker buyer, but when I was 20 and broke, I bought my first pair of speakers because they had a metal grill. 14 years later, watching eBay, Audiogon, and AVS classifieds for a cheap M&K speakers, I finally have 7 sort of matching M&K speakers. I say sort of matching set of speakers because my LCR-75's are the predecessor of the THX 750 system. I emailed Ken Kreisel some time ago and he confirmed what I already thought I knew from my own listening, which is that they are timbre matched perfectly. Close enough to a matching set for me. So you get the idea about my obsession with buying everybody else's left over theater gear. Everything in my current theater was B-stock or a floor model. But, that also means that I got some pretty good stuff on the cheap. Kind of like an old lady that hangs out at flea markets, except instead Atari's and shot glasses, I got a high end 7 channel speaker system for $1300. Now I'm ready to put them in a proper theater. And I will say that my current theater is far from proper. It is complete with curtains that don't match the wall color, drywall spots that were patched and never painted, an entertainment center with a Scentsy thing on it, and a really bad ass sound and video system. I can't decide if the decor in there currently is "white trash" or "frat house". I guess it could be either, or sadly, both.
So, I guess I should get down to what my goals are with this build.
1. I don't need soundproofing. Yes I know the benefits. I also know the price. I'm good.
2. No soffits, no stage, no insane lighting system with 12 zones and a star ceiling even though it would be pretty bad ass to have one.
3. I would like to take the current white trash decor, and turn it into what would be considered, elegant minimalism. My room will be modeled after this one,
but on a smaller scale. Hell I may even steal the color scheme. Haven't decided yet.
Equipment
PJ: JVC RS-45 (got it on eBay from an AVS member)
Screen: 100" Wide SeymourAV 2.40:1 AT Screen. I've had it for about a year. It's the perfect size for what I need. Plus my equipment rack will fit under it. It's new but I don't trust a private party to pack and ship a screen properly.
Source: Oppo BDP-93 (Bought this new too. Damn.)
Speakers: M&K 750 series except for the mains which are timbre matched LCR-75's.
Subs: Currently dual Epik Legends. Hoping to sell them and get dual SVS cylinders. B-stock of course. Even if I don't sell them, I'll probably still get the SVS's. Edit: Epiks were sold and dual B-stock SVS PC-12 Plus Cylinder's purchased.
Middle Atlantic Slim 5 21U rack
Acoustic Treatment: Roxul Rockboard 60 Mineral Wool from ATS Acoustics.
Fabric walls and panels: DMD Fabric from Acoustimac.com Not sure on the color yet. Samples are in the mail.
Lighting: Insteon
Control: IRule
Audio EQ: MiniDSP 2x4 for the subs, Sherbourn has a built in parametric EQ for the other 7 channels
Video EQ: Lumagen Radiance Mini (trying to find a used one. they are hard to come by)
First row of seating is a set of 3 Berkline Reno Manual Recliners (on sale for like $500 off). I may sell them.
Back row are Bass Millennium Theater Seats. These are probably the best bargain I've come across in my lifetime of buying all of this crap. Here is a picture:
They may not look like much but these are incredibly high quality. I mentioned this in another thread; I never understood why people would pay thousands of dollars for these high end seats. Leather is leather and microfiber is microfiber. At least that's what I thought until I sat in these. A local dealer sold me these because they were discontinued by Bass. They were in his high end room. They retailed for $4000 for the row of 4 and I got them for a $1000. They really are top notch in comfort and build quality. And I paid less for these than I did my Berklines, which are really not that great by the way.
I will start tearing out the room down to the studs this weekend. Pre wire Monday or Tuesday, which is when my mono price shipment arrives. Here are a couple of pictures of the room.
That will be the screen wall.
This will be the back
I'm gonna turn the window seat into a shelf for movies and so on so forth and what have you's.
This is the giant opening that sucks