Discussion Starter
·
#1
·
I've not posted much here before, but I see great interest in higher sensitivity designs using Pro drivers, so I thought I would start a thread here. I heard this open baffle design by Jeff Bagby/Jim Salk at the inDIYana event in April. I thought they were perhaps the best speaker I've heard, stunningly clean, smooth, balanced and unrestrained with a great soundstage. They were very much live sounding. I was so impressed with them that I've been inspired to try and recreate my own version of it. I'm hoping for sensitivity in the 92-93db range. I believe Jeff said his design was about 93db.
Here is what Jeff is using in the Salk design, according to what he told us InDIYana:
12 Lambda TD12H ($259ea.), crossed at around 450hz.
6.5 PHL 6.5" mid (1120 is the available equivalent) midrange ($159ea.), crossed at 2.7khz
Morel MDT33 tweeter ($149ea.)
http://aespeakers.com/drivers.php?driver_id=6
http://estore.websitepros.com/1736754/Detail.bok?no=48
http://www.madisound.com/catalog/pro...roducts_id=570
For those who have not seen it, here is the Bagby/Salk design.
Goals:
My goal was to create a little smaller speaker (higher SAF, you know
). My concept is about 16 wide at the base, tapering to 7 wide at the top and is about 42-43" tall. I'm thinking of doing the woofer bafflesout of laminated solid hardwood, 1.5" thick. The idea is to laminate them from 1"x2" hardwood stock laid flat and stacked vertically. I will mix a second hardwood as shown strictly for aesthetics. The open baffle section will be a mix of 1/2" Lexan with a contunaction of the same laminated hardwood as a bacer for mounting the drivers.
I'm also considering mounting the woofer, midrange and possibly the tweeter from the rear, leaving 1/2" wood between the driver and the baffle face. I would use a 1/2" round-over on the edge. The tweeter,in effect, would have a shallow, 1/2" deep waveguide. This serves to boost the low end output by about 3db over a broad range centered around about 3kHz. When equalized out in the crossover, it will allow the tweeter more headroom and lower distortion at the low end and also help in countering the rising response of the Peerless HDS at the upper end. Mounting the woofer from behind lessens the visual impact it has on the design. Of course, I will be doing some measurements to see just what effect this will have on the drivers natural frequency response before making a decision to use this kind of mount with any of the drivers. Below is a mock-up of what it is planned to look like.
Drivers:
The drivers of the Salk/Bagby design run in excess of $1100/pair. I would like to reduce that where possible, while losing little in either sensitivity or sound quality. Here are the drivers I've come up with to use, with an all passive crossovers at about 450 and 2500hz.
Woofer:
Lambda TD12H 12, 93db: $468/pair (link above)
Midrange:
B&C 6MD38, 96db: $92 ea.
http://www.partsexpress.com/pe/showd...number=294-651
Tweeter:
Peerless HDS 810921, 93db: $78
http://www.madisound.com/catalog/pro...oducts_id=1744
I pcked up two of these for $55 before the price went up.
The B&C 6MD38 seems to be well thought of, has very similar specs and published FR. Zaph has recently tested it and "it looks like a drop in replacement for the PHL" (Jeff's words, not Zaph's). The total driver cost will have been reduced to about $762/pair, and though still very expensive, is about a $340 savings.
The TD12H is in a 55L box. I'm using a slot port, exiting at the bottom rear of the box. Tuning will be such that the F3 will be about 35hz. It will put out over 110db at 100watts and not be even close to Xmax. I'm trying a new box deisgn that uses red oak ribs dadoed into the walls combined with simple cross braces for panel resonance control. According to my calculations, it will use about 17% less space than an equivalent window-brace type design.
I've done some diffraction modelling in BDS. Here are the results for the two drivers:
In addition, I've done some diffraction simulation and dipole simulations in John k.'s ABCDipole and in the Edge. Attached are the diffraction and then dipole simulations from ABCDipole: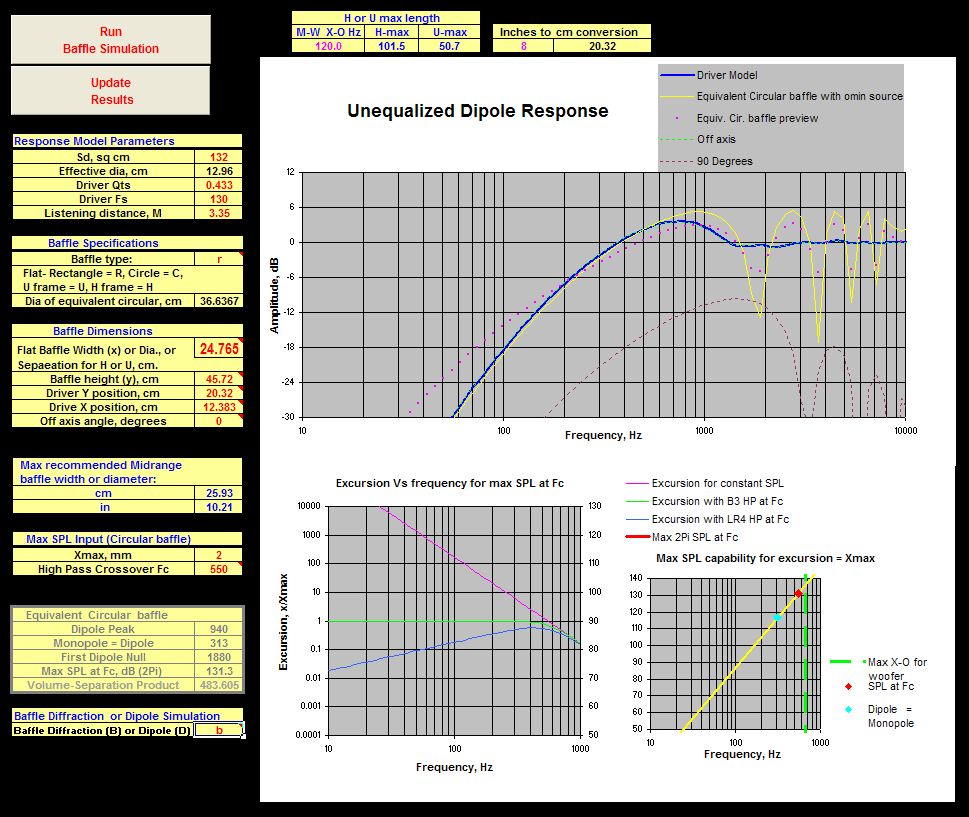 Below is a graph from the Edge model showing dipole and diffraction results.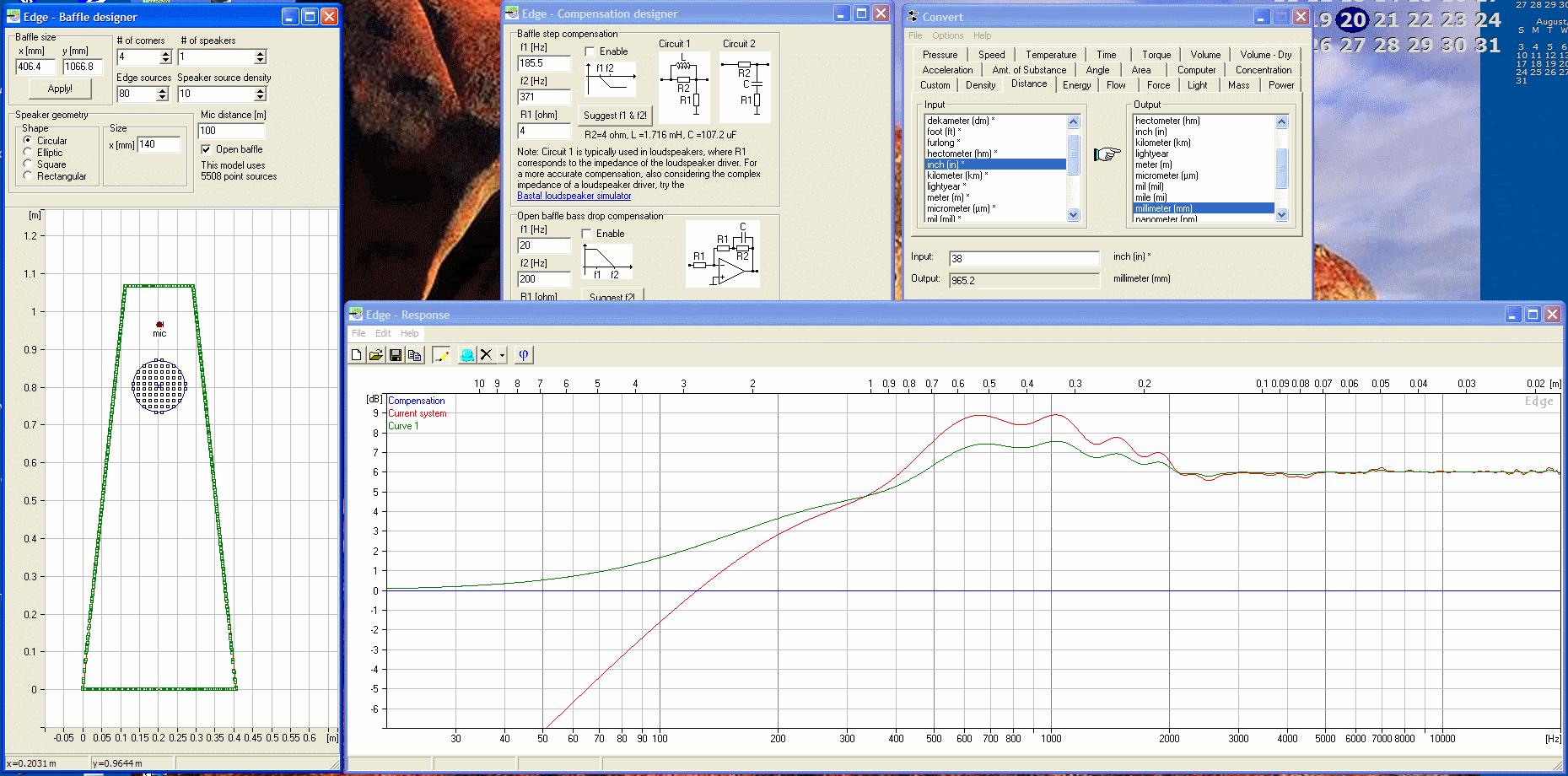 Here are some results on woofer/midrange floor bounce nulls.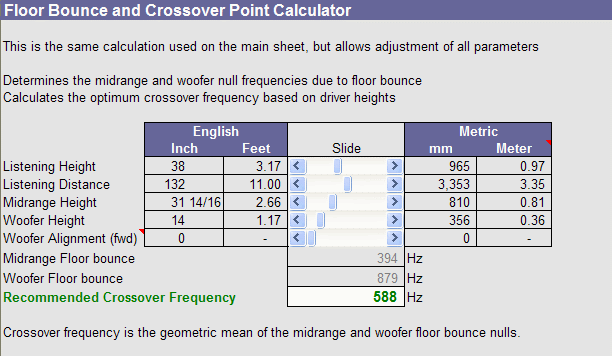 Construction of a prototype is ongoing and I will post some photo's next.