Discussion Starter
·
#1
·
I made the first purchase for my theater so I suppose that means it's time to start my build thread.
Four years ago we built our house and at that time we had to cut the theater from our original plans due to cost. That was a blessing in disguise because it gave me plenty of time to do more research (mostly here on the AVS forums) and come up with a bigger, better theater. We just got the new plans from our original architect. It's bigger and has an equipment closet plus a bonus room above the theater.
Goals:
A "better than commercial cinema experience".
Comfortable seating for my family of 5 plus a few friends and adequate seating for the occasional larger get-togethers.
A low noise floor plus be able to watch movies at night at an appropriate level without disturbing the kids sleeping upstairs.
Fit with the modern aesthetic of the rest of the house.
The name - Dawkness. It's not a misspelling, but what my middle kid called the color black when she was younger. The Dawkness Theater.
Dimensions: 17.6' x 26' x 11.5'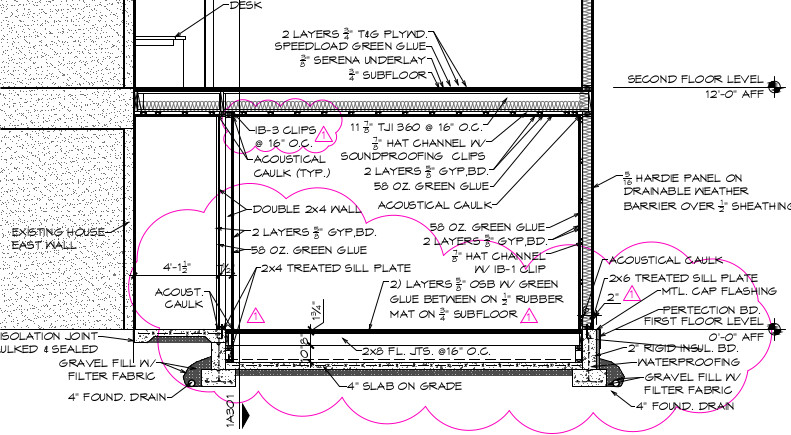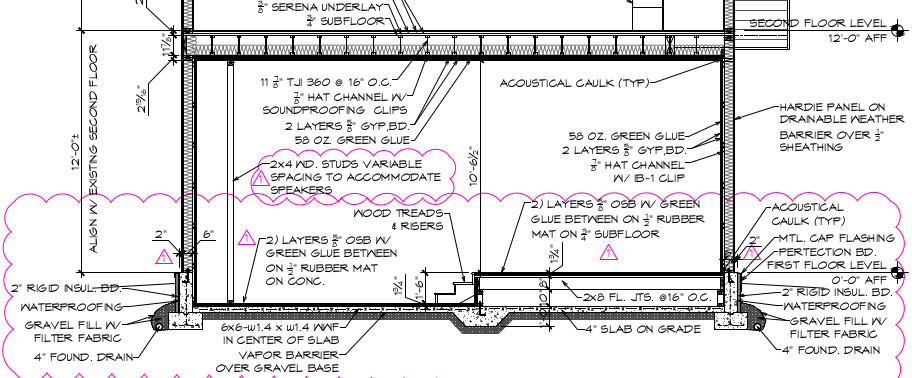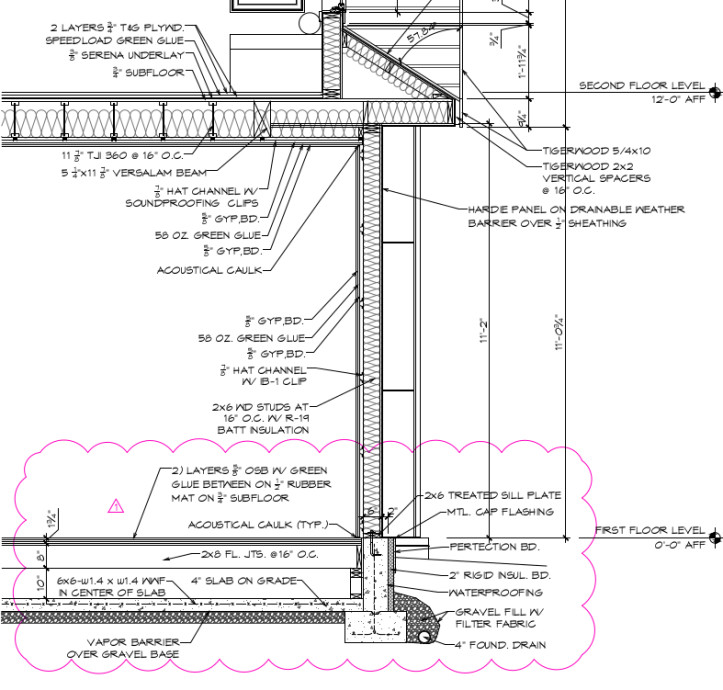 I've spec'd that the slab in the theater be dropped to 18" below the current floor so there's a level entry onto the riser.
Two rows of seating plus a bar squeezed into the back. I think I have the seating worked out now to fit the bar but it's tight.
Eyes and ears: Scope & Atmos 7.1.4
Soundproofing:
Double-stud left wall, clips & channel on remaining walls & ceiling.
Double ⅝ drywall (maybe OSB first layer) with Green Glue.
Horse stall mats & OSB over slab.
Floor above to use Soundproofing Company solution 5 (multiple subfloor layers with Green Glue and rubber mat).
Doors: fortunately I can put in 2 doors and have a bit of a "micro-lobby". The rest of the house uses EZY-Jamb flush door jambs which are mudded into the drywall so I'll have to figure out how to incorporate those. Doors will likely be 1 ¾ exterior solid doors, maybe a layer of MDF & GG. Seals & automatic door bottoms.
Equipment:
Marantz 7704/5 pre/pro
MiniDSP 10x10 (to matrix the 2 sets of side surrounds and do sub EQ)
Crown XLS amps all around.
Whatever JVC projector I can get for ~$4k
DIYSG HTM speakers for LCR and Volt surrounds although I do have a full 7 channel set of old Athena speakers including AS-F1 mains that might do temporary duty at first.
DIY UM18-22 subs 2 up front, 2 in back; Full Marty-style cabinets.
Acoustic treatments:
Following Anthony Grimani's recommendation of 20% absorption and 25% diffusion. Most likely all DIY treatments as commercial products are expensive for what they are in my opinion. I'll probably build QRD, PRD, and poly diffusers. Absorption panels will probably be Roxul Comfortboard or Safe-n-sound since I can order that through Lowe's. I'm going to try to take an empirical approach to the treatments - measure, add, measure, repeat. I could have a professional design done, but where's the fun in that?
Furnishings:
Not interested in the purpose-built home theater seating out there from a purely aesthetic standpoint. I know they can be comfy and many theater owners love them, but they're a big nope for me and my wife.
Row 1 4 West Elm Spencer recliners
Row 2 4 West Elm Enzo power reclining couch.
I've sat in both of these and they are quite nice.
Alright, if you're with me this far you want to know what the first purchase was.
https://www.bludot.com/knicker-barstool-5-1-outlet.html
It was bar stools so I'm kind of committed to doing the 3rd row bar. Blu Dot had a great deal on these so my wife and I pulled the trigger. After opening them and inspecting for damage, back in the box they went and I put them in storage. I have to say the cost is worth it on these. They're extremely well made out of hardwood and very comfy.
That leads into one of the challenges that I know my fellow AVSers can help me with. 26' of length doesn't allow a lot of room for 2 rows, a bar, and big subwoofer cabinets. I want to use balancing subs front and rear placed at ¼ of the width in from the side walls to smooth out room modes. The solution I'm contemplating now is laying the sub cabinets down on their backs inside the riser firing upwards. Thoughts?
I'm also open to screen recommendations. I'm still trying to figure out what viewing angle I prefer. Requirements are acoustically transparent and 2.35. I'll probably also need a little gain if I want to be able to show HDR with a reasonably priced JVC. The wide range of manufacturers and prices is intimidating. I'm willing to spend a little more for a good value so I don't have to upgrade for a long time if ever.
I'm at a critical phase here where I'm about to start talking to builders so I appreciate any suggestions.