McIntosh MX123 A/V Processor
PRODUCT PAGE :
https://www.mcintoshlabs.com/products/home-theater-processors/MX123
PRODUCT MANUAL :
https://www.mcintoshlabs.com/-/media/Files/mcintoshlabs/DocumentMaster/us/MX123-om-01.ashx
PRODUCT BROCHURE :
https://www.mcintoshlabs.com/-/medi...ocumentMaster/us/MX123-brochure-35110000.ashx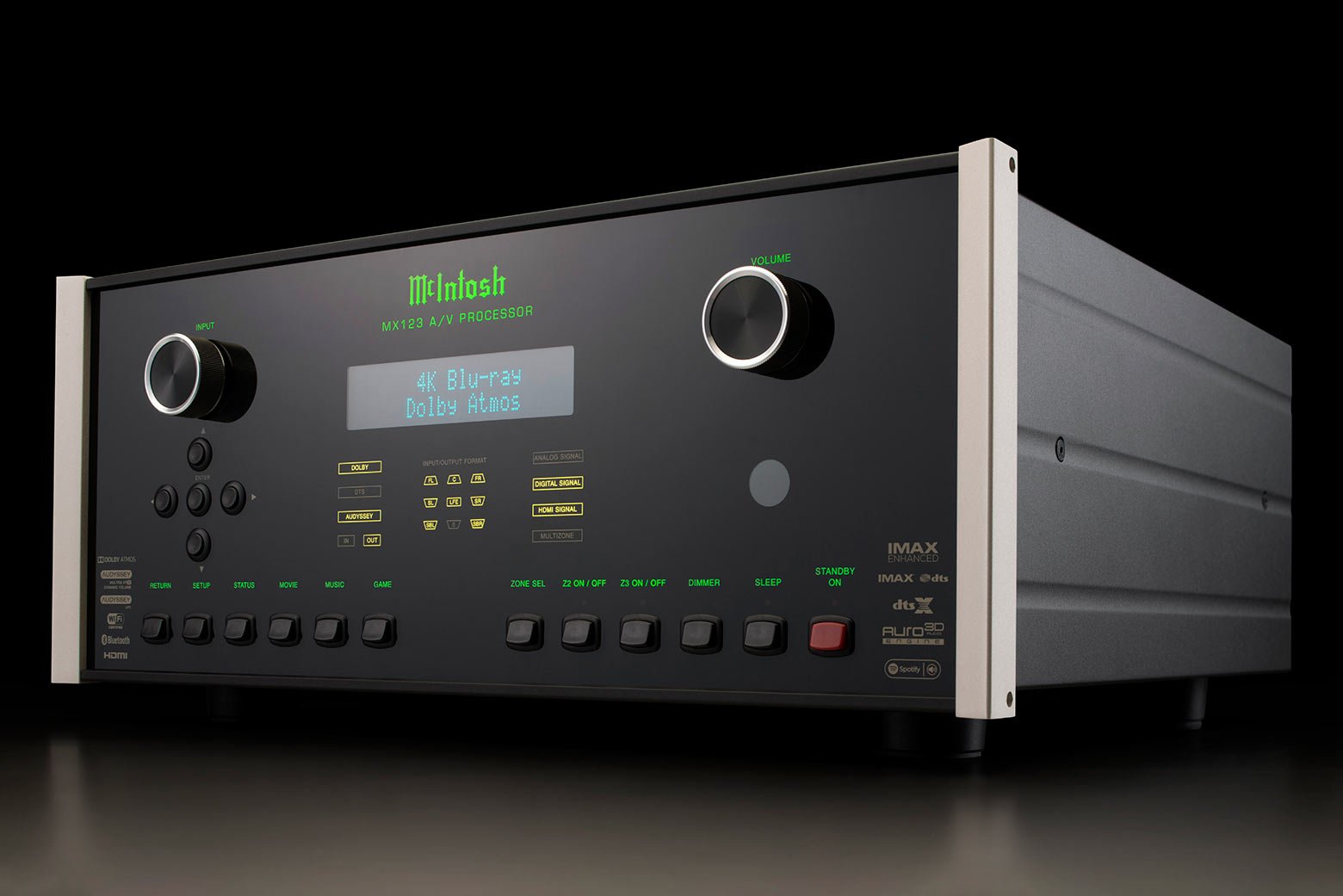 The MX123 A/V Processor marries a long tradition of uncompromising McIntosh sound quality with the latest home theater technologies to bring you an unsurpassed luxury home entertainment experience. It is compatible with all the leading home theater surround sound and object-based 3D audio formats including Dolby® Atmos, DTS:X™ and Auro-3D®. It's also fully compatible with modern 4K Ultra HD video sources and can upscale lower resolutions to 4K Ultra HD for the best possible picture quality.
The MX123 features upgraded digital audio processing capabilities that results in 2 more discrete audio channels, bringing the MX123 to 13.2 discrete audio channels compared to 11.2 in the previous model. These 13.2 discrete channels are available via both balanced and unbalanced audio outputs that can be used in a variety of home theater speaker configurations; 2 additional unbalanced outputs offer further connection flexibility. DSD and ALAC playback support have been doubled to DSD128 and ALAC 192kHz for better high resolution audio performance.
For the video needs of your home theater, the MX123 has 7 HDMI inputs and 3 HDMI outputs, with each being HDCP 2.2/2.3 compliant. They all also have 18Gbps of bandwidth to support High Dynamic Range (HDR) formats Dolby Vision™, HDR10 and HLG; 4K Ultra HD at 50/60Hz; 4:4:4 color spacing; Rec. 2020; and 3D video pass-through. Enhanced Audio Return Channel (eARC) functionality is included on 1 of the HDMI outputs. eARC offers improved bandwidth so the MX123 can receive higher resolution audio from your TV to produce the best possible sound quality. Additional connections include: 4 digital audio inputs; 1 balanced and 8 unbalanced analog stereo audio inputs (including 1 dedicated as a Moving Magnet phono input to connect a turntable); an unbalanced 7.1 multi-channel audio input; 3 component and 4 composite video inputs; 1 USB Type A input; 2 unbalanced analog stereo outputs; and 2 composite and 1 component video outputs.
An exciting new feature on the MX123 is IMAX® Enhanced. IMAX Enhanced is a set of stringent performance standards established by IMAX and DTS® to create a consistent and higher bar for image and sound performance on premium devices. It utilizes a sophisticated, advanced algorithm designed to produce the highest-quality, sharpest 4K HDR images. IMAX and DTS will also partner with award-winning Hollywood sound mixers to use a special variant of the DTS:X codec technology included in the MX123 to deliver an IMAX signature sound experience in your home theater.
Streaming options1 on the MX123 have been upgraded from the previous model. The MX123 now includes Apple® AirPlay 2® along with Bluetooth® and Spotify Connect for easy streaming from your mobile devices. AirPlay 2 is an Apple technology designed to control home audio systems and speakers in any room – with a tap or by just asking Siri – right from an iPhone®, iPad®, HomePod™, or Apple TV®. It offers multiroom audio, Siri voice control, and enhanced playback. TuneIn is also included for further music streaming options – including McIntosh Music. To assist with streaming performance and reliability, wireless connectivity has been improved to include 2.4/5GHz dual band support.
Audyssey MultEQ® XT32 is included and will calibrate the MX123 to your home theater's unique acoustical properties, letting it deliver the clearest and most balanced earth-shattering sound possible. Each discrete audio channel has its own 32-bit premium Digital-to-Analog Converter (DAC) to produce the best audio quality. Bass and treble tone controls plus a 9-band equalizer offer additional fine-tuning. The MX123 also gives you the flexibility to create 2 additional zones in your house and send select audio and/or video to each zone.
The MX123 can be paired with a variety of home theater amplifiers such as our MC303, MC255, MC257, MC8207, MI128 or MI254 amplifiers and any of our floor standing, in-wall or in-ceiling speakers to create an enviable and enjoyable cinema experience in the comfort of your home. Front panel buttons or a comprehensive remote control allow for easy system operation. It's complete with McIntosh design fundamentals of a backlit black glass front panel with an illuminated logo, control knobs, an easy to read display, and aluminum end caps. Contact your local dealer to learn more.
S P E C I F I C A T I O N S
Frequency Response:
±0.5dB from 20Hz-20kHz
Total Harmonic Distortion:
0.005% maximum from 20Hz to 20kHz
Rated Output Voltage:
2.5 Vrms Unbalanced
5.0 Vrms Balanced
Inputs:
9 Stereo (8 unbalanced + 1 balanced)
7 HDMI
4 Composite
3 Component
2 Optical
2 Coax
1 Multi-channel 7.1 (unbalanced)
Outputs:
15 Balanced (configured for 13.2)
17 Unbalanced (configured for 13.2)
3 HDMI (1 is eARC)
2 Composite (1 for zone B)
2 Stereo (unbalanced for zones B & C)
1 Component
Video Processing:
4K Ultra HD native sources,
Upconverting to 4K Ultra HD
High Dynamic Range (HDR): Dolby
Vision, HDR10, HLG
IMAX Enhanced
Audio Processing:
Dolby: Atmos, TrueHD plus
legacy formats
DTS: DTS:X/Virtual:X/HDMaster Audio
plus legacy formats
Auro: 3D, Auro-Matic, 9.1, 10.1
IMAX Enhanced
Control:
Remote control, network, RS232
Overall Dimensions (W x H x D):
17-1/2" (44.45cm) x 7-5/8" (19.37cm)
including feet x 19-1/2" (49.53cm)
including the front panel, knobs & cables
Weight:
31 lbs (14 kg) net,
55 lbs (25 kg) in shipping carton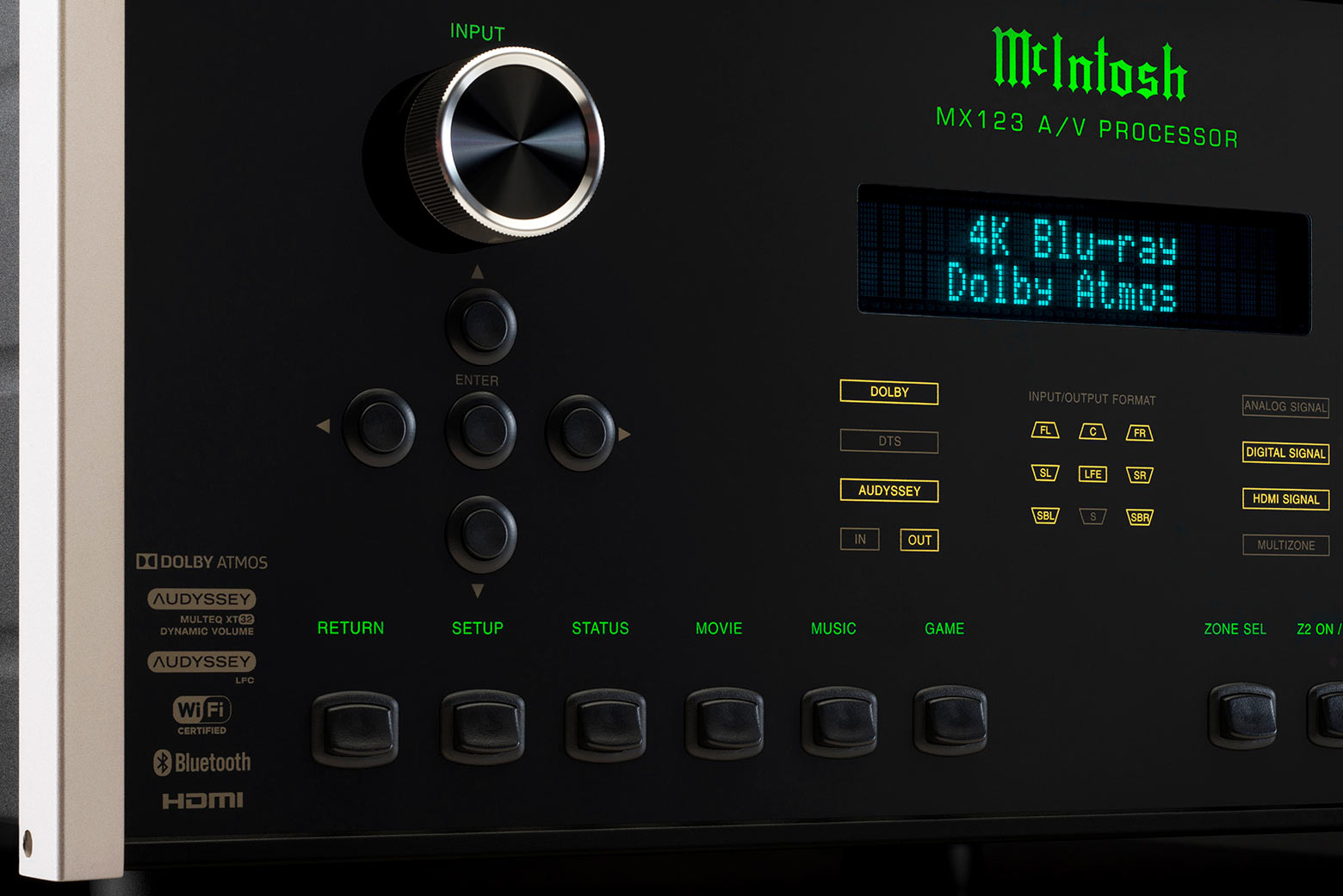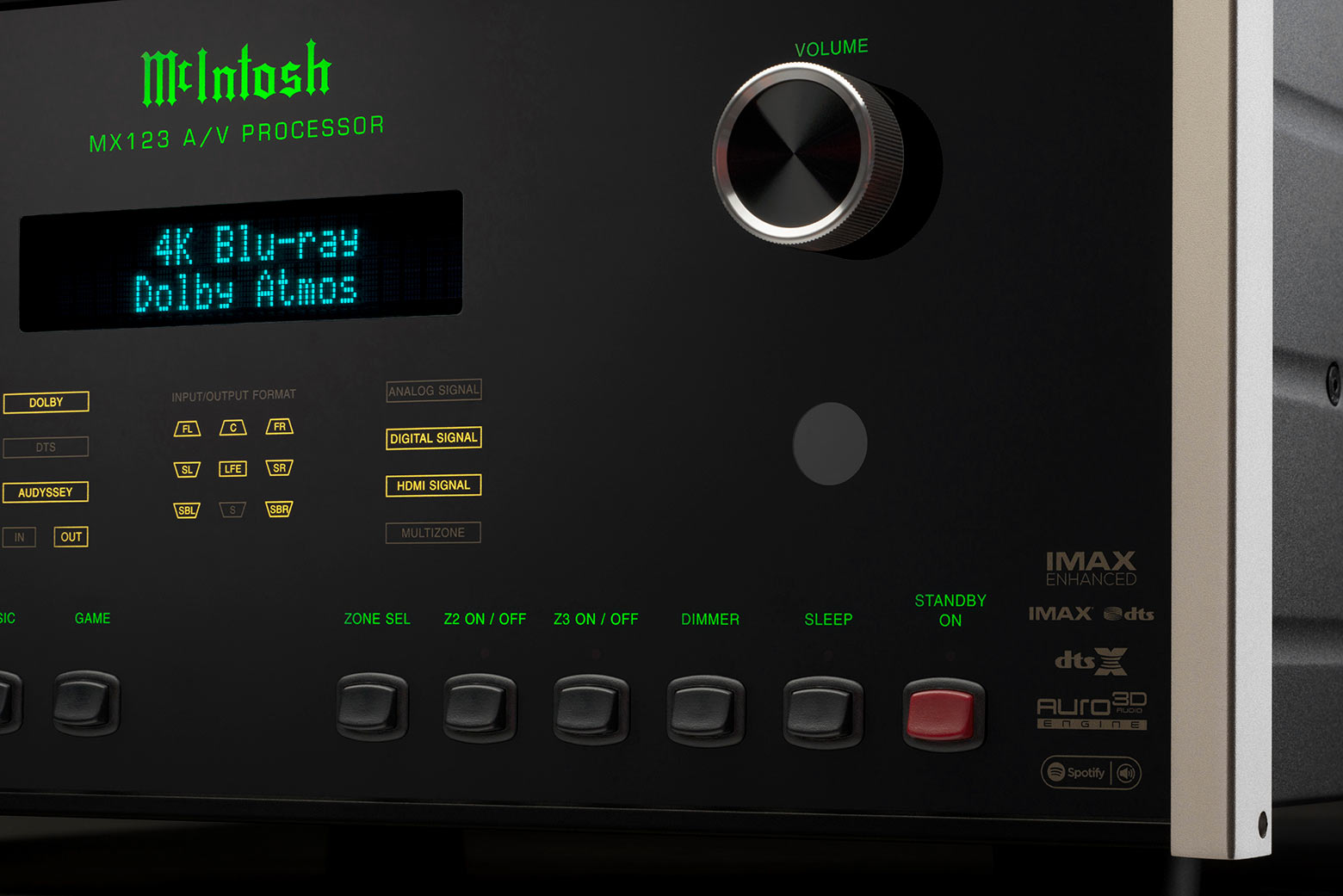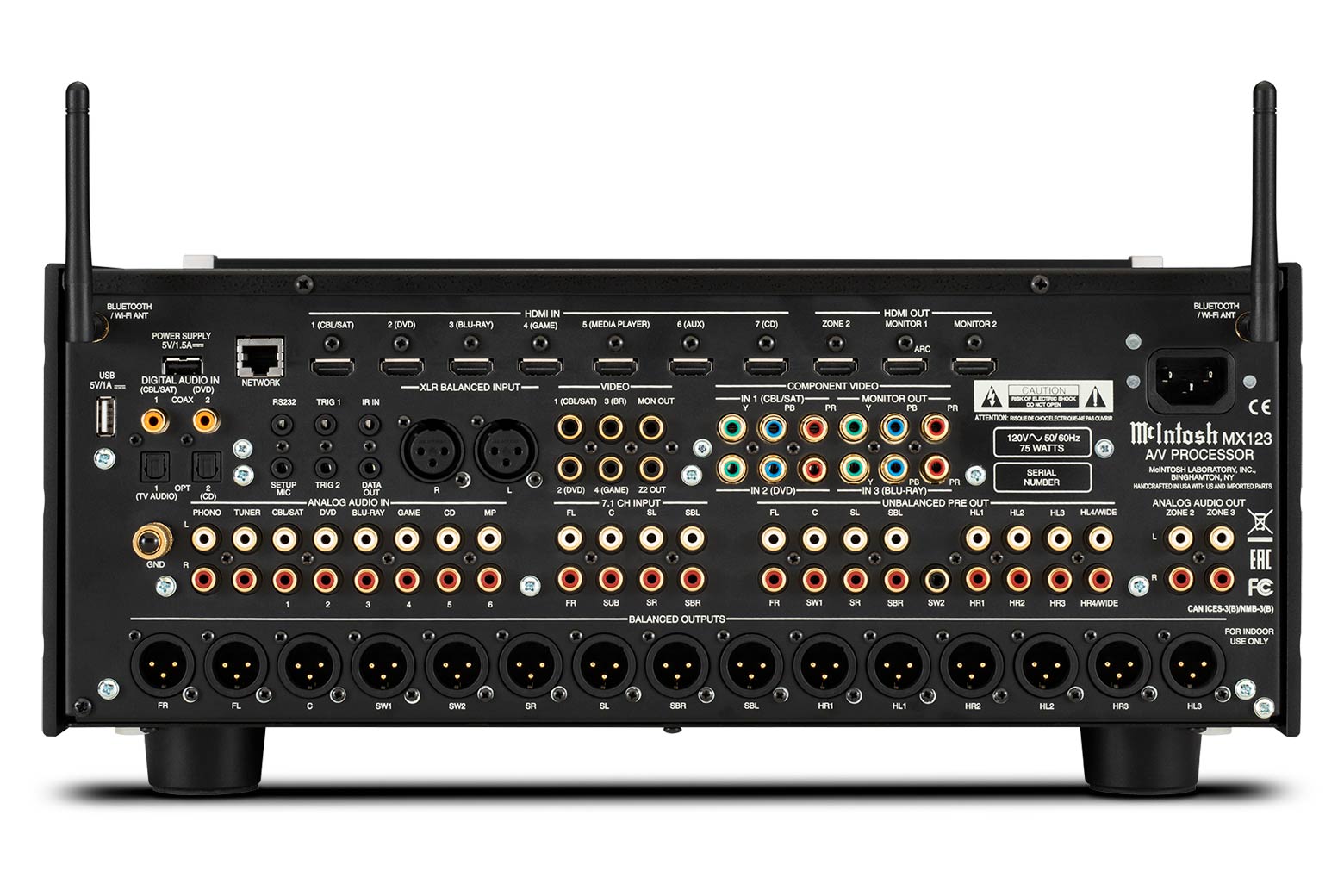 Mine arrives home early this week ... will report back with findings and photos.
Cheers