Hi. My name's Fred, and this is my first meeting. I haven't figured out what twelve steps go with the addiction I've developed, but I'm sure there will be wide screens and acoustically transparant everything.
Oh, wait. Is that not what we do here?
Seriously, getting this moving is one of those weird experiences where I'm not sure how it will turn out, but I've obsessed for long enough. I've told all my friends about how they'll never want to go pay for movie tickets again, and all they'll need to do it bring some popcorn and drinks. I just hope you all can help me bring that promise home, and within my lifetime.
I'm sure if you've read more than a couple build threads you'll recognize some design ideas I've borrowed (thanks guys!), but that doesn't mean I've thought of everything. So please keep an open mind and blurt out whatever you think - I know I'm trying to think creatively as much as possible, so I'm ready for suggestions.
I've purchased a recently built (in the last decade) home with a previously "finished" basement - we moved in October. I'll show you some pictures and video below, but all that will do is provide visual reference for the demolition that will need to happen. I'm not really sure how the previous owners used this space, but I can't imagine it was up to my standards for sound or light control. There are windows I'm afraid will have to go, and speakers in the ceiling that won't do at all, and hardwood flooring that I hope can be reused by someone else ...we'll see.
The prime space is around 12 feet wide (12 and a half in some places), 9 feet tall, and longer than I can use - 37 feet. There are one or two adjacent spaces that might become part of the whole experience - you'll see in the plans below.
Here's the bullets for a wish list
seating for 6 or more
superior sound control - a low noise floor especially.
light control - automated would be ideal, budget pending
constant height projection (no lens) and infinitely variable masking (automation not required)
acoustically transparent screen
concealed speakers as well as acoustic treatments
7.2, maybe 7.4
equipment in another room (I have only a small number of pieces already - BDP, Boxee Box, a receiver I hope to use as amp)
the lowest budget possible*
I'll go ahead and post a layout and a video so you can see the space, and then I'll mention some of the challenges I've identified. (Pardon the video, embedded here, it seems to get stretched to 16:9, even though the iPod shoots video 4:3 - it's right on YouTube at my channel - HopefulFred)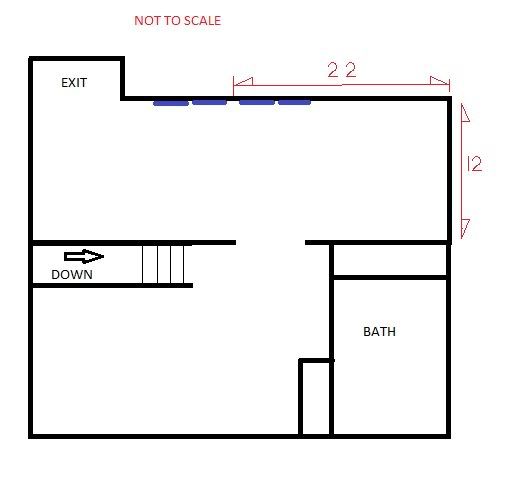 Link to YouTube
The bad news:
The width is a fixed constraint. The sump pump and stairwell are not moving.
The existing soffits and ceiling are weird. Hopefully, when I tear down the drywall I'll find problems with solutions, and not just more problems.
The length will need to get worked out. The landing for the stairs may impose practical limits, but I'm hoping that I can make everything work well without getting too creative or having two doors in the theater (I'll show you what I mean in my proposed final layouts).
The HVAC unit that serves the basement is a heat pump, and the air handler is directly adjacent to the current finished room. I want to maximize the effectiveness of this unit while also keeping its noises out.
There are as many as four windows that may have to go entirely. Depending on final length of the room, I may not need to remove all of them. Or maybe I can be convinced I don't need to remove any of them, but I doubt that.
The good news:
The better half trusts me to handle this. She understands it will take a year or two ...or three (did I just jinx this already?) and won't try to stop me from building fabric wall panels or painting the ceiling black.
There are no kids; I feel like that's a plus just because it takes away one of the things people have to plan for. But given my other goals, I actually can't see how this makes a difference.
I'm sure there is other good news... like I have 9 feet worth of height to work with before riser, and I have access to some free materials that I may want, like four old theater seats (not the newer rocker style - the older flip seat bottom and solid arm design) and a section of old screen (not sure if it will be useful at all).
Here's my current working design plan. I haven't really considered an elevation yet, but once I get the length sorted I'll be looking into that to work out screen and riser heights.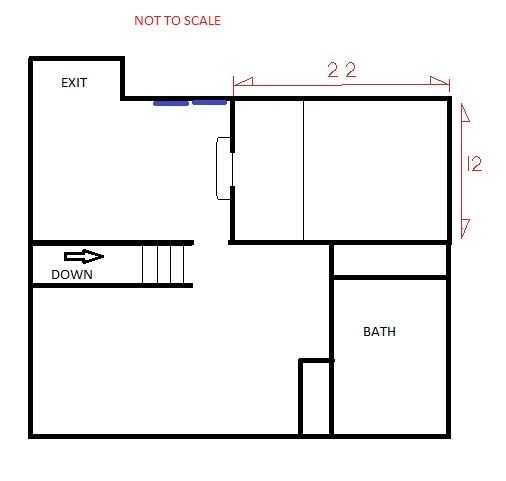 Link to YouTube
Step 00 - Measure, plan, consult, replan.
Step 01 - Demolition
Step 02 - Reframe
Step 03 - Drywall
Step 04 - Risers and Soffits
Step 05 - Pre-Wire
Step 06 - Paint
Step 07 - Fabric Walls
Step 08 - Screen, Screen Wall, and Masking
Step 09 - Carpet
Step 10 - Seating
Step 12 - Calibration  
Speaker Build
(LCR)
Thanks for reading. In the absence of better ideas, this is approximately where I'm headed. I'd love to have your thoughts and encouragement along the way.
Fred