Discussion Starter
·
#1
·
Well after alot of heartache and grief trying to decide what mains to try and build for my first speaker build. Ive finally made up my mind. Theres just way too many options out there WHY
?? It makes it tough on a fella to make up his mind
. That being said my main goal is good SQ and high sensitivity second that i can power off just my receiver which is 110wpc.
I decided with my budget of $400-$500 i might be better of trying a line array since majority of the decent options IMO are $600+. I got a chance to hear some SLA's and was quite impressed
! But in a room of my size they will not be able to get loud enough before distortion takes over
. So i knew i would have to step it up a bit. I did a little research on line arrays and talked with someone whos very familiar with building them successfully. And concluded it would cost me far to much to use an array of decent tweeters.
So with an idea from Neo Dan i decided to make an array with a waveguide and compression driver for the HF duties instead of a standard tweeter array. Do i have any clue how this will turn out? Absolutely not! But i am commited at this point. It could be an epic failure but its a risk i am willing to take. Worse comes to worse im out a few hundred on the mid woofers and building supplies. I can reuse the waveguide and compression driver in an econowave build if it comes to that. Lets hope it doesnt because lets be honest the array is going to look bad a$$
LOL. Some of you guys may think im an idiot for trying it but i dont care we all have to start an learn somehow.
Im using 8 6.5" midwoofers per tower
http://www.parts-express.com/pe/show...number=299-250
This compression driver with 75* conical WG from the QSC HPR122
http://professional.celestion.com/pr...etail.asp?ID=3
/
http://qsc.com/products/speakers/hpr/hpr122i.htm
Some pics of the goodies!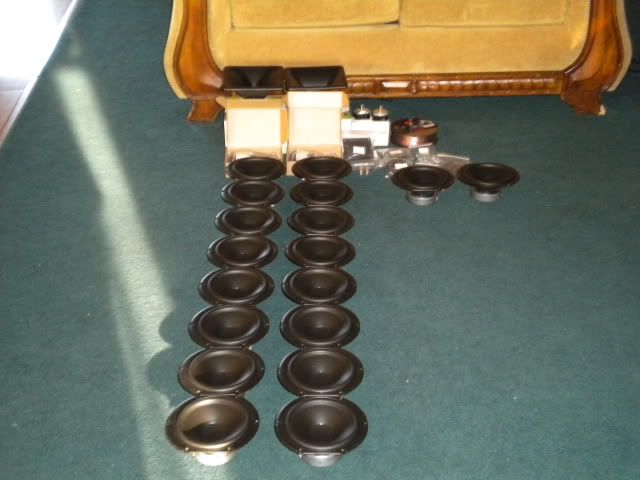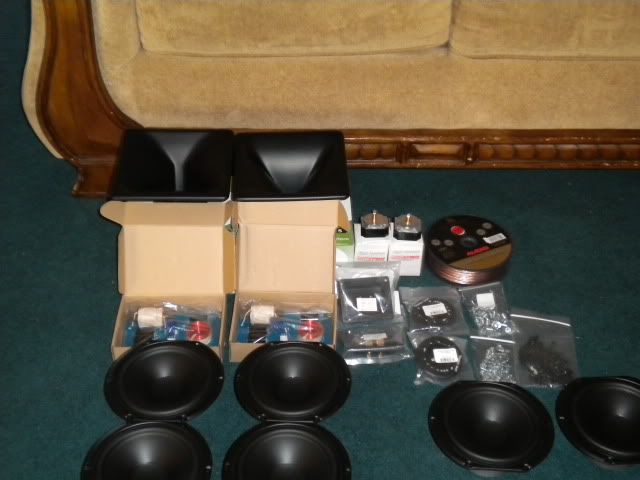 The mid array should get me a sensitivity of 95db at 8ohms. I am going to have to use an L-pad to better match the compression driver to the mids. The box will be roughly 3.2 cuft sealed so .4cuft per driver. And it will stand a whopping 9.75"x12"x64". Ill also be building about a 6" to 8" tall base to mount the box too for much needed stability and to get the proper tweeter height.
Heres a few photos of the progress thus far.
Heres my chicken scratch to get the driver holes and WG aligned. Lets hope the spacing is proper!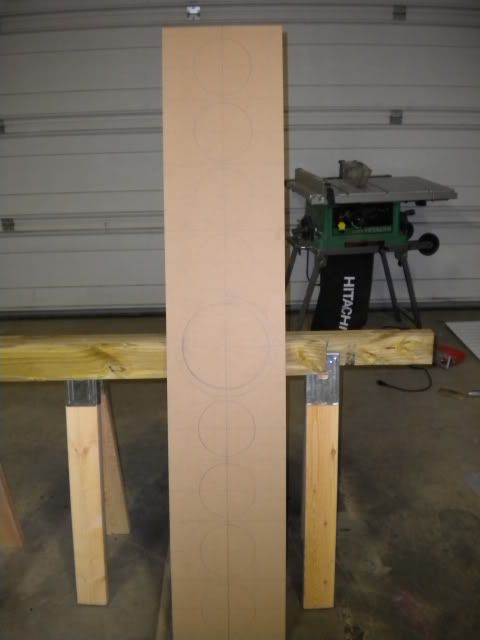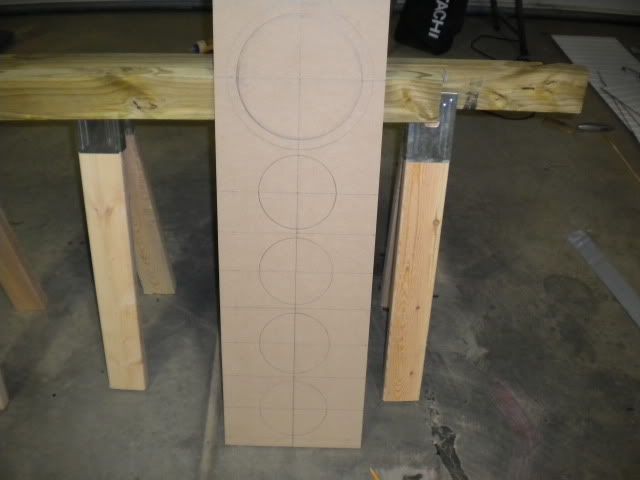 Ive got the WG and driver holes cut. I am a samurai with a jig saw
!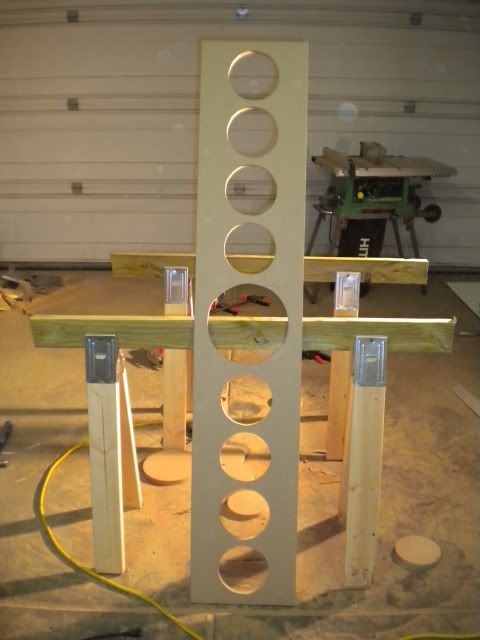 I tested a few of the drivers and WG to make sure they fit properly. Not too bad if i may say so
.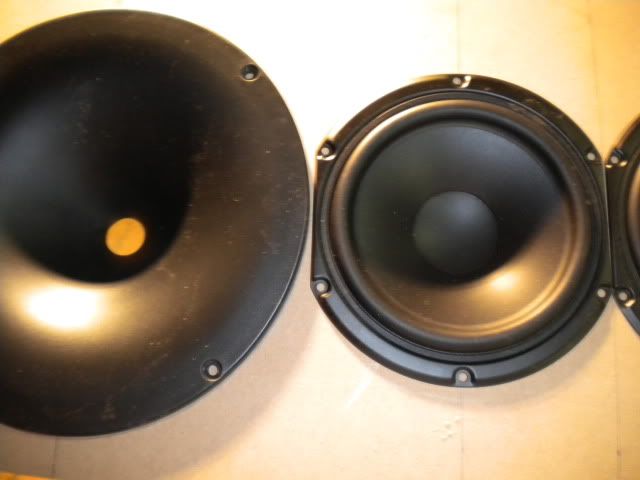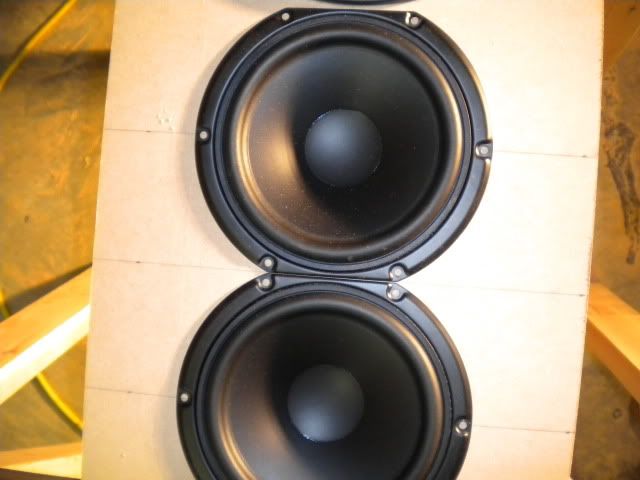 Then i went ahead and glued the front baffle and one of the sides together.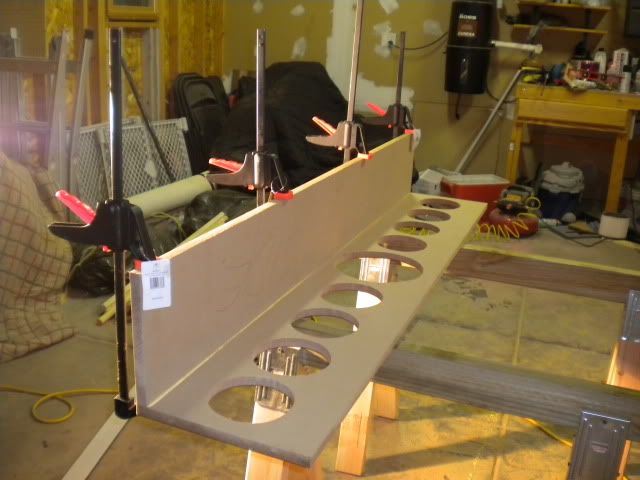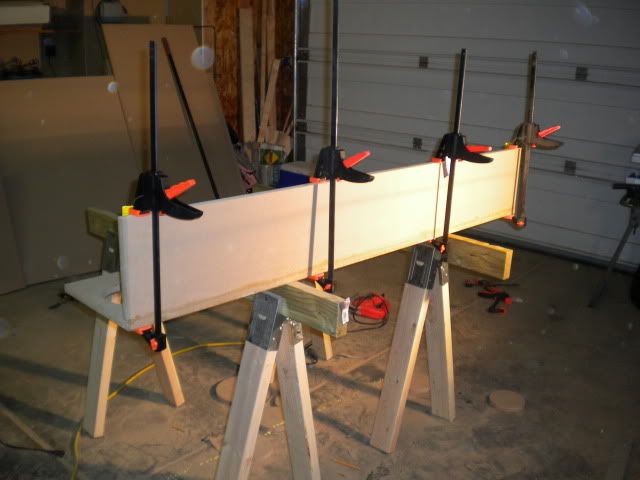 I am working with a limited amount of clamps and tools here so while those panels dry i will cut the rest. Although you see a table saw in the background i am not using it these MDF sheet's are much too large. So im building this with a circular saw and sawguides. THIS IS FUN STUFF LET THE INSANITY BEGIN!
Alright heres the bracing and both sides in place. Im using a few tiny brad nails to help hold and rotating the clamps as needed.
And here is the back panel with the holes for the speaker terminal and L-pad knob cut out. Fit pretty good!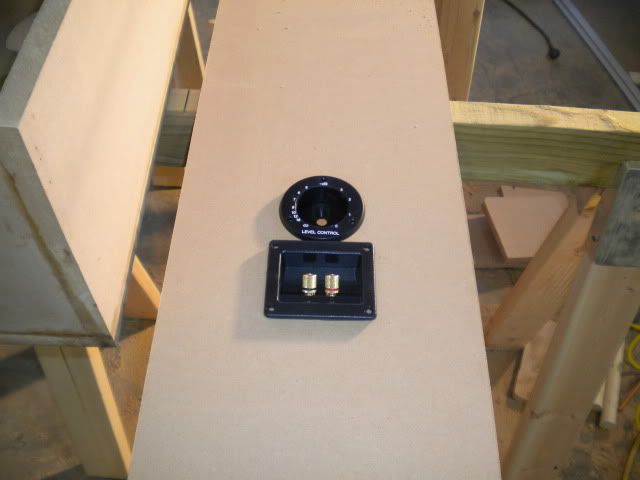 Heres a few pics of the wiring! Took these last night the few connectors you may see are no longer there its all soldered now.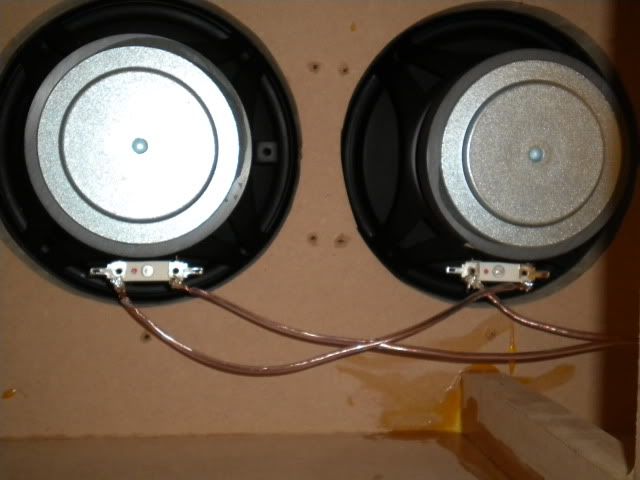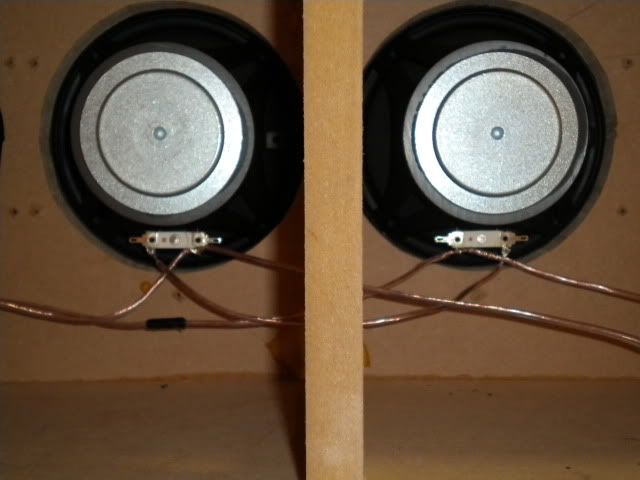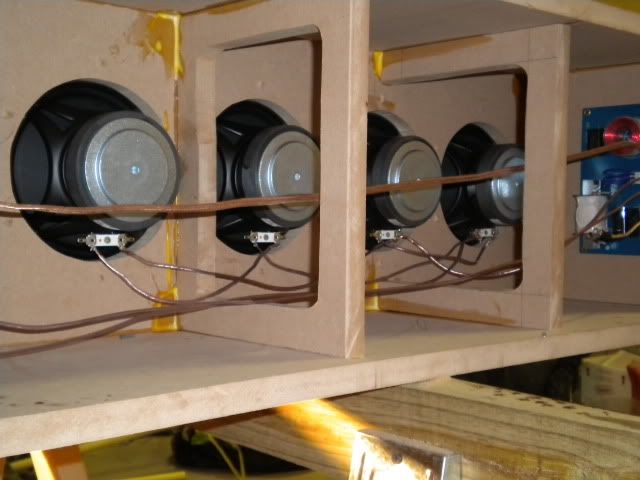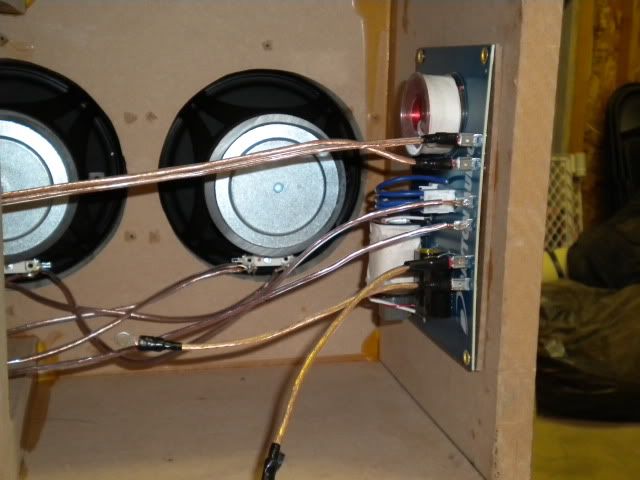 Heres the box stuffed before the rear panel is installed.
And here is the front of it with drivers and WG in place.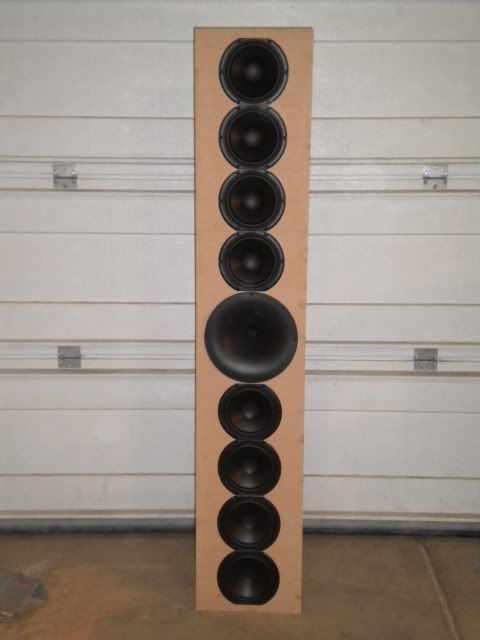 Here it is in place looks pretty awesome next to my huge entertainment center not too out of place lol. Remeber there will be a nice base for it to lift it higher and it will be painted black.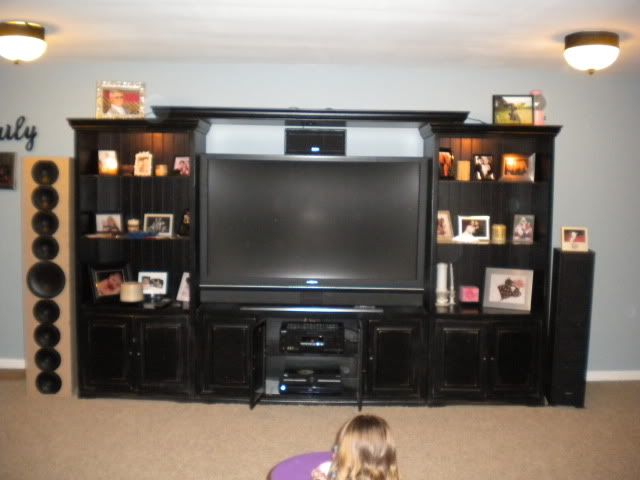 And here it is dwarfing my old towers and they are not that small at all standing at 42" high and 10" wide!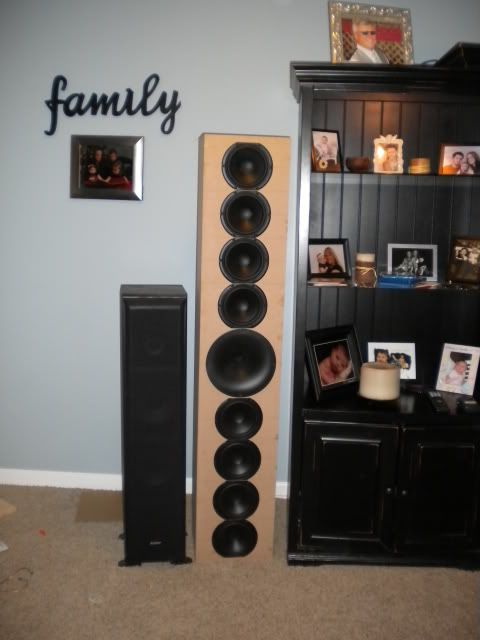 Alright well heres the base's i came up with. Lift the tweeter height right where i want it and adds a little spiffyness! haha.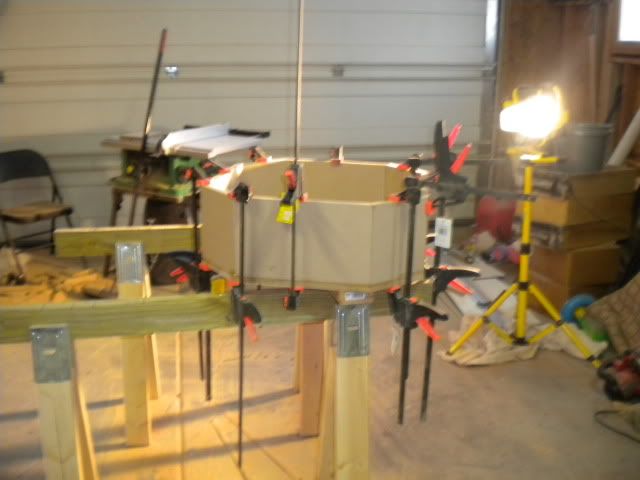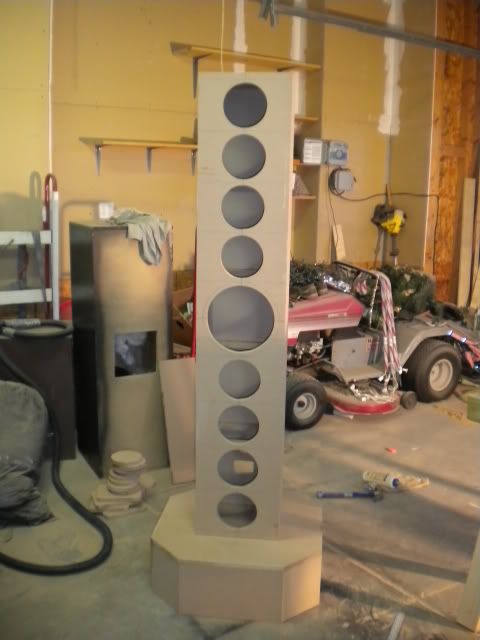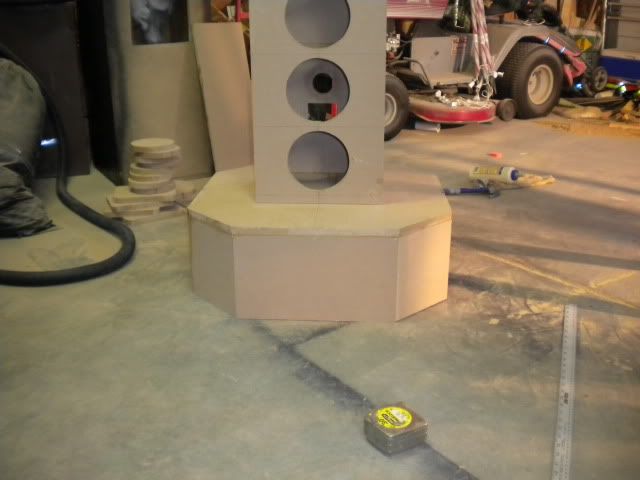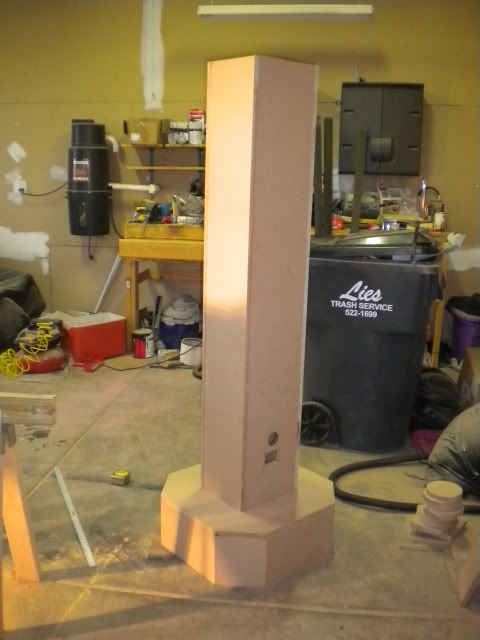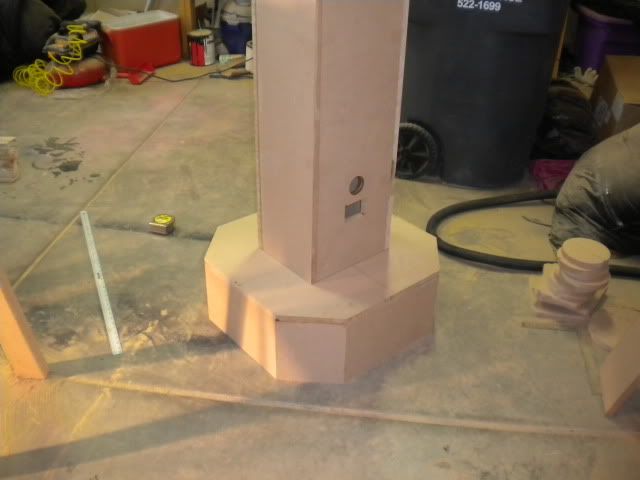 Well in attempt to try and spruce up my UGLY base's, i cut off 1" in height it helped the look and is still within good tweeter height. And i put on a little bit of trim. I plan to round over the edges of the base and speakers. And put some 3/4" to 1" quarter round around the bottom of the speaker where it meets the base.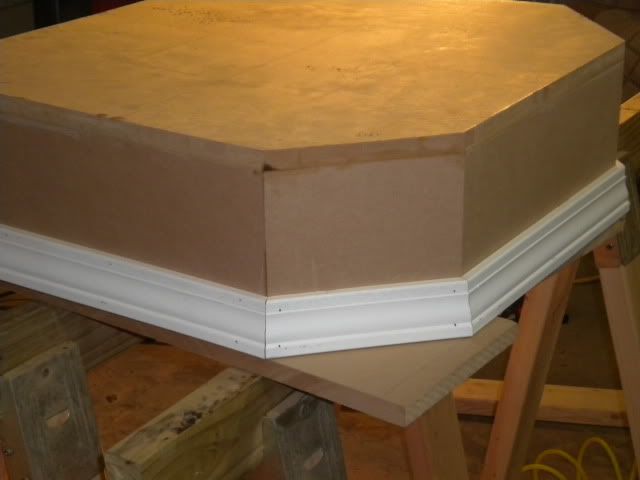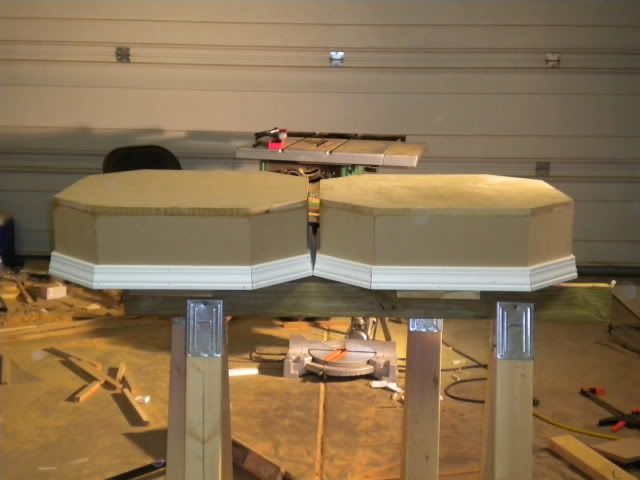 Alright got both bases completely done and one box completely done and bolted to the base. The other box is being stubborn and im going to have to sand it down completely and re paint it in due time. Bases are covered in heruliner bed liner, it matches my sub. And the baffle is metallic gun metal grey. The rest of the box and trim on the base is just valspar roll on black satin paint. I kinda like it but am still on the fence about it. So be easy on me lol! And excuse the horrible quality pics alot of dust got stirred up bring the boxes inside the garage right before i took the pics.