As the sign says, welcome to the Stonewater Cinema. After almost two years of "Coming Soon - The Stonewater Cinema build thread" as an inactive link in my AVS Forum autosignature.....I am happy to make this link official and active!!!Technically speaking, some of the actual construction has already begun but don't worry - I have barely finished framing the room and have plenty of pictures to share with everyone to catch up to its present status. Some decisions on design and equipment have already been made, but there is a lot yet to be decided so I sincerely look forward to feedback from everyone who reads (i.e. lurks) on this thread.
Given the number of PMs and well-deserved public harassment I have received to get things going, my goal is to make your wait worthwhile.Instead of launching into a huge introductory post, I thought I would keep things relatively simple and high-level here in this first post and let subsequent posts fill in the details with words and pictures. As a handy reference, I will be creating an index here in this first post so you can quickly jump to any stage of my construction build as things progress.
First, I'd like to give you a bit of background on the design theme for my theater. For some reason I have always seemed to gravitate to the Art Deco style found in the old cinema palaces of the 1920s, 1930s and 1940s. If you ever are in the San Francisco Bay area, there is one of the world's best examples of a classic Art Deco movie palace in Oakland, CA -
The Paramount Theater
. Yes, the style can be a bit over-the-top, but there are many classic Art Deco themes that started with this theater. Here are a few pictures:The main entrance to the theater, "Always The Best Show In Town". Notice how my marquee above follows the original deco theme in this photo:
Main theater stage as seen from the balcony:
Main lobby showing a number of Art Deco design themes I will be translating to my theater: backlit glass with metalwork in front and tiered edge details:
Close-up of main lobby side wall. Again, backlit glass with decorative and sculptural metal in front: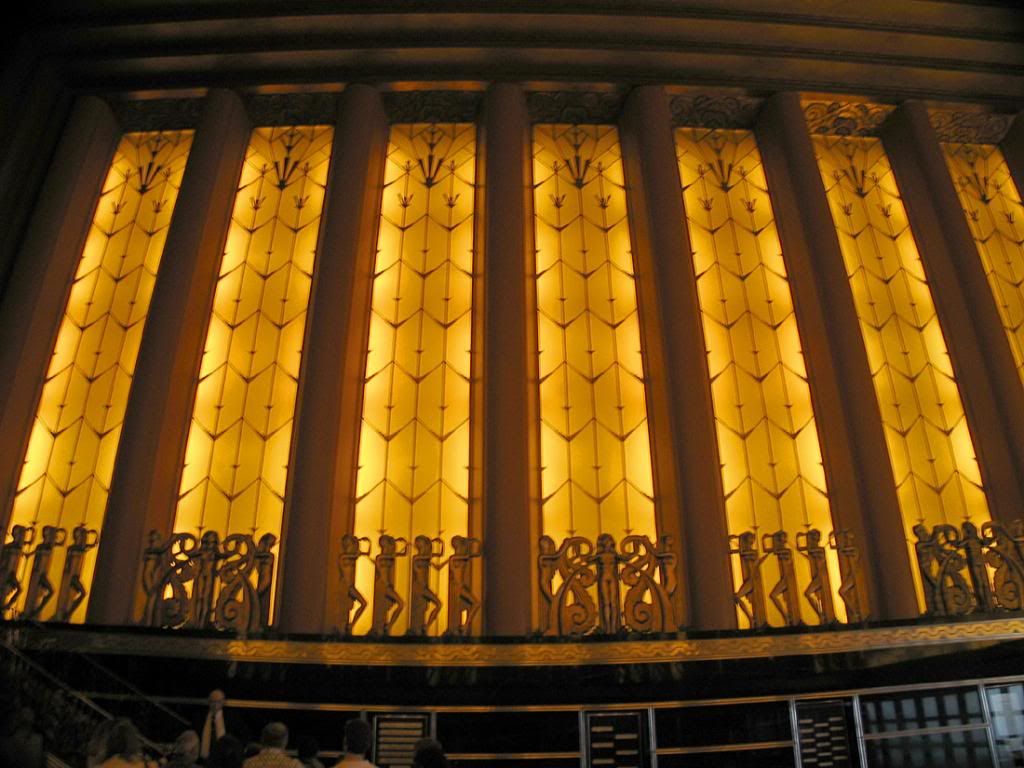 It is my goal to create a classic Art Deco home theater but with an updated, yet elegant look that extracts some of the design elements I like. I ended up drawing a fairly detailed blueprint of the room, complete with ceiling, front, side and rear elevations - all of which I will share in an upcoming post. I decided to hire on Dennis Erskine and his talented team to translate my drawings into CAD and tweak where needed. I had been entertaining the thought of hiring Dennis for quite some time, primarily for the acoustic analysis of the room and to get the right acoustic environment for the room - which as we all know has great impact on the quality of the final product. I went into this process with a goal of getting the biggest "bang for my buck" with a high-value system, despite my tendencies (and I think a lot of Forum member's tendencies) to really go for a high-end system, which meant that hiring outside professional services was on my radar, but not a definite. That all changed and I ended up contracting with Dennis when I decided to pull the trigger on a very special purpose-built theater speaker system. More on that equipment choice to follow.....how's that for a teaser?
I will be updating this thread frequently to catch everyone up to present status, including details of all the equipment I have purchased so far.
EQUIPMENT LIST
Sources
Genie HR-54 4K Genie DVR system with two C41 clients
Kaleidescape Strato 4K UHD Movie Server
Oppo UDP-203 4K UHD Bluray player
Sony PS4 PRO
Network
Cisco SRW2048
48-port Gigabit Switch with WebView
Asus RT-AC68U
Dual Band Wireless AC 1900 Gigabit Router
AV Electronics - Home Theater
Sherbourn PT-7030
Preamp/processor (Will be upgrading to a 3D audio processor)
Sherbourn PA7-350
- 350 wpc x 7 channel amplifier (Quantity 3)
Crest Audio Pro-Lite 7.5
OR
Peavy IPR2 7500
amplifier for four IST UXL-18 subwoofers
Crest Audio Pro-Lite 7.5
OR
Peavy IPR2 7500
amplifier for two Stereo Integrity HS24 24" subwoofers
Crest Audio Pro-Lite 2.0
OR
Peavy IPR2 2000
amplifier for 8
Buttkicker LFE
transducers
QSC Core 250i
DSP (planned)
AV Electronics - Distributed Audio / Video system
Savant SLN-88BT
8x8 HDBaseT HDMI Matrix switch
Savant SmartLink HRX-SLN501
HDBaseT Receiver (Quantity 5)
Savant Smart Audio SSA-3220
32x20 distributed audio matrix
Sherbourn PA18-45
(Quantity 3)
Projector
TBD - Would love a Sim2 3-chip DLP, but they are out of budget, so currently looking at
Sony VPL-VW600ES
(preferred), otherwise looking at the
Epson 6030ub
or the
Sony VPL-HW55ES
Panamorph DC1 Anamorphic lens
with Panamorph ATH2 remote controlled automatic motorized lens transport
Screen
Stewart Filmscreen Cine-V
screen frame with 50' radius curve and 2-way vertical masking system
Seymour Center Stage XD
(141" wide x 60" high (153" diagonal), acoustically transparent, 2.35:1 with acoustically transparent side masking panels
Speakers
Procella Audio P610
(Quantity 3) for Left, Center and Right Channels
Procella Audio P6
(Quantity 6) for two pairs of side channels and one pair of back channels
Procella Audio P10si
(Quantity 3) for balancing subwoofers
Procella Audio P6iw
(Quantity 4) for in-ceiling Atmos speakers
IST UXL-18
(Quantity 4) with
DIYSoundgroup 4 cu ft. subwoofer enclosures
Stereo Integrity HS24 24" Subwoofers
(Quantity 2) in custom Baltic Birch plywood enclosures
Cables
Canare 4S11
for all speakers
Belden 5T00UP
10awg for all subwoofers
Monoprice Redmere (or similar) for all HDMI wires
All other wires in the rack will be custom-made and terminated by me
Control
Savant HST-4501
Host Controller
Savant SSR-1000
handheld remote (Quantity 6)
iPad
4th Generation with Retina Display (Quantity 2)
iPad Mini
with Retina Display (Quantity 1)
iDock Glass Landscape with Touchcode
security (Quantity 2) for wall-mounted docking and charging of iPads
iDock motorized in-wall dock for iPad Mini with Retina display
(Quantity 1)
Traditional Lighting
Lutron GRX-3106 Grafik Eye
6 zone lighting controller with
SeeTouch SG-4SN
(black) 4-button backlit keypad with raise/lower function
Lutron GRX-CI-PRG
Grafik Eye 3000 Astronomic Timeclock and Programmer Interface
Philips Color Kinetics RGB LED Lighting System
Philips Color Kinetics iPlayer3
DMX Controller with IP interface
Philips Color Kinetics iColor Flex SL
strand lights (Quantity 16)
Philips Color Kinetics sPDS-480ca 7.5v
Rack-mounted power supply for data and power for iColor Flex SL strands
Philips Color Kinetics iColor Cove EC Powercore
12" RGB LED fixtures for soffit and accent lighting (Quantity 105)
Philips Color Kinetics sPDS-480ca 24v
Rack-mounted power supply for data and power for the iColor Cove EC Powercore fixtures
Philips Color Kinetics MRg2
(Quantity 5) for RGB LED screen washers and (Quantity 3) for illuminating the LCRs behind the screen
Philips Color Kinetics PDS-70mr
24v power supply for MRg2 bulbs
Philips Color Kinetics iColor Keypad
(Quantity 1)
Star Ceiling
FOSI Fiber Optic Star ceiling
with dimmable LED bulb (tied to one zone of the Grafik Eye)
Power Conditioning
Richard Gray Powerhouse
- AC Power Purification and isolation
APC S20BLK
- Network Manageable 1.25kW S Type Power Conditioner with Battery Backup 120V
Seating
Berkline 090
Series (Quantity 8) with integrated
Buttkicker LFE
tactile transducers
Middle Atlantic Racks and Accessories
Middle Atlantic MRK-4431
gangable rack enclosures (Quantity 2) with rear door and
PFD-44
locking Plexiglas front door
BUILD INDEX