Discussion Starter
·
#1
·
Hi All - After lurking in the digital bushes for the last several months, I think I know just enough to ask stupid questions to you fine folks. Before I start, I want to say thanks to all of you who document your successes and failures, and make it easy for newbies to get on board.
We moved about two months ago, and I finally have a space where I can create a nice bar and cinema space in the basement. There are three concerns with the space. One, there is a lally column in it. From what I've gathered, this is not ideal, but is it really a deal breaker? Second, it's below our master bedroom and my wife goes to bed much much earlier than I do. So I'll definitely want to soundproof as best as I can. Third, one of the back walls needs to be angled to provide access to the heaters. I haven't seen much positive or negative about angles in rooms. Should I add a second for symmetry?
I would like to have a 10' screen, 3 rows of seating (4 wide preferred, 2 rows of theater seats, and a bar like Big's and others serving as overflow). I was thinking of doing as much DIY as possible as far as the screen, masking, star ceiling, etc. The space is currently up to 26' long x 16'9" wide prior to framing, and 8'10" tall. I could rotate the room 90 degrees to get the column out of the picture, but the WAF took a major hit on that initial design. I can also go a bit wider if needed, and possibly another foot or so back.
Proposed space with lolly col. The red dot in the middle, column. The other, is a waste pipe, which could be incorporated into the room: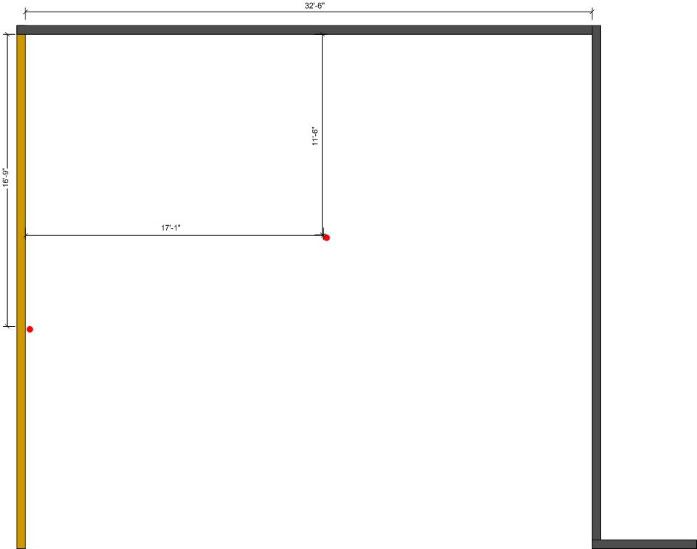 Proposed space with rough seating, bar placement, screen reference, etc: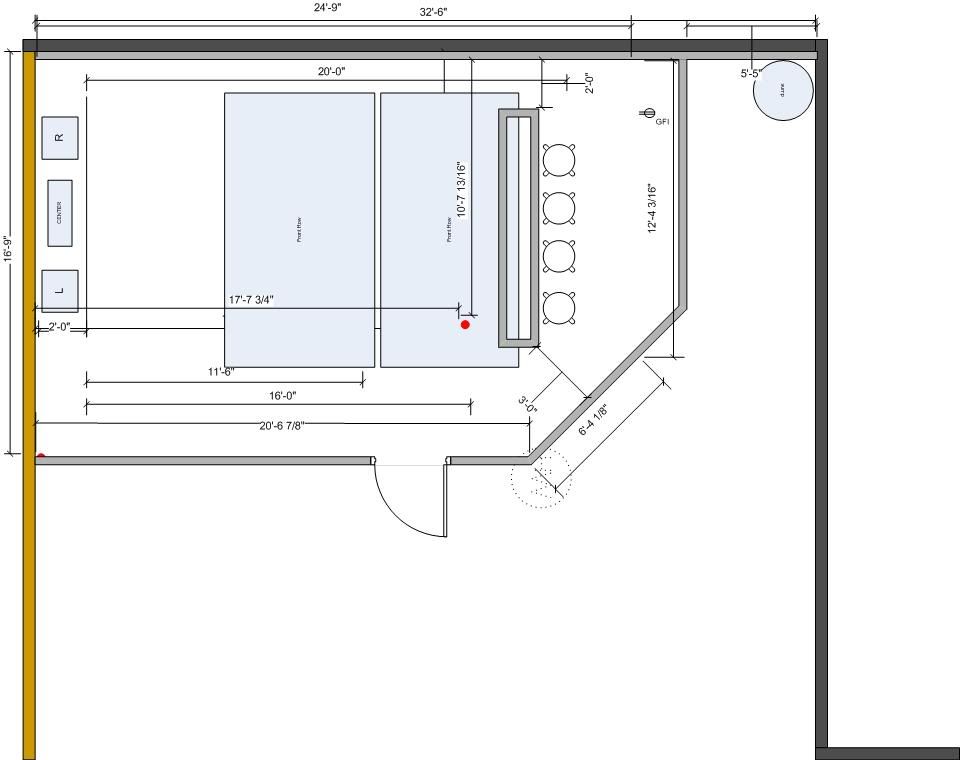 Equipment I'm considering -
Panny PT-AE4000U - seems like a popular choice and is right in my wheelhouse for price.
AT Screen - 2.35 CIH, DIY?
Receiver, Speakers, Subs, unknown
Seats - Unknown
Again, thanks for all the advice you've given others over the years, and I look forward to hearing some thoughts on my proposed space.