Discussion Starter
•
#1
•
Haven't been here in awhile due to life. Here is my
original theater build thread
. When I moved a few years back we bought a house that didn't really have a good space for a future HT. The one unfinished space was nearly our only storage in the house (seemingly). After having just moved the space was FULL of unopened moving boxes. Well 3 years later we are in the process of clearing out the room and my wife is pushing me to either sell all of my old HT junk that we moved or set something up! Queue the build thread!
The space is quite small but manageable I think.
Room is approximately 12'-6" wide by 17'-4" deep. I have identical DIY LCR speakers that I would like to re-use. I also still have my Panasonic AE-4000U with only ~100 hrs and unopened spare lamp, so that will be the starting light thrower.
Full Equipment Rundown:
Panasonic AE-4000U 1080P LCD Projector
DIY
EconoWaveGuide Deluxe
Left/Center/Right Speakers
Onkyo TX-NR1008
BFM Tuba HT Folded Horn Subwoofer
(3) Behringer A500 300Wx2 Amplifiers
Oppo BDP-93 Bluray Player
Older HTPC with W7
Tivo Mini
Here is a Photosynth of the space as it sits while we organize/sell/scrap everything in the space. Pretty cramped.
Photosynth of Existing
I need to keep at least one of the storage racks in the space (put it in closet). I really only need one couch/sectional for the space. The younger ones can sit on bean bag or gaming chair down low. I had planned on maybe a space behind a half height wall for stools, but not sure if possible with tight quarters.
Here are some proposed drawings from
Live Interiors 3D Free
(just found this program this afternoon and it is fairly robust and really easy to use so far):
2D Floor plan (mostly to scale)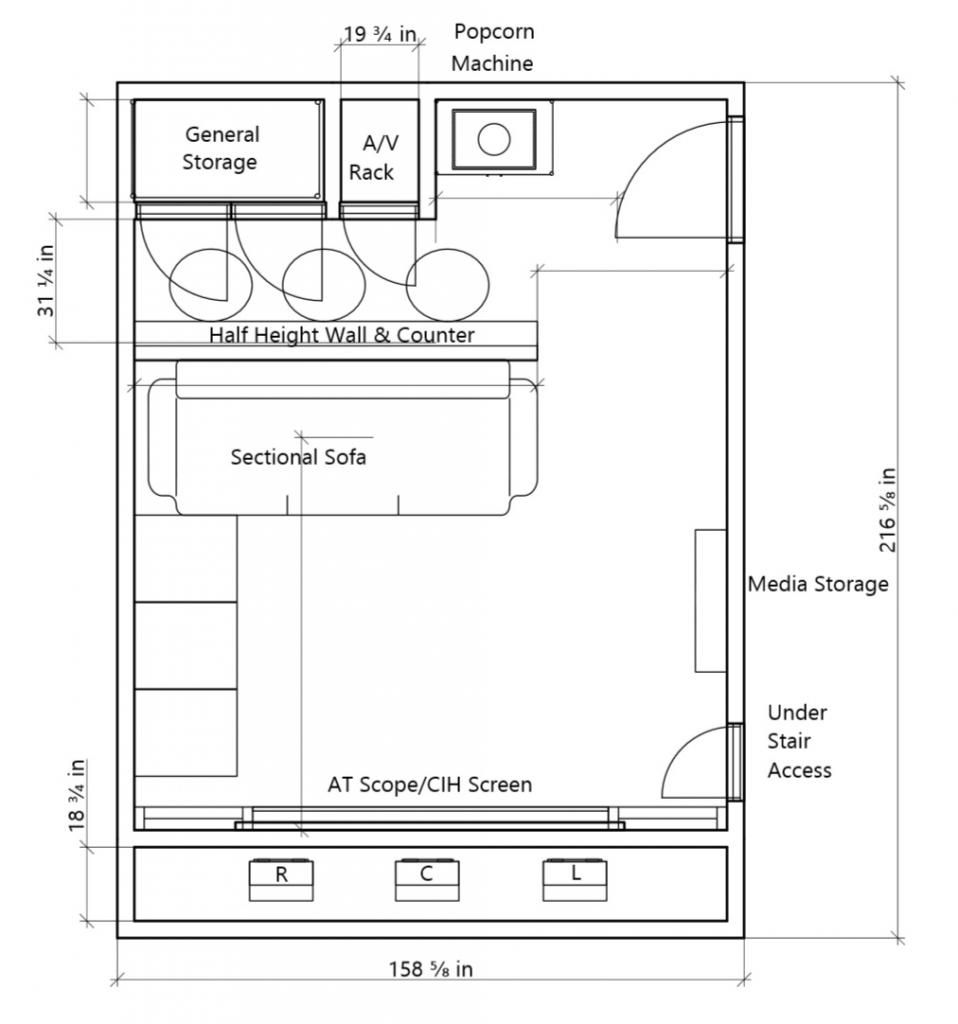 3D Renderings (with some color schemes I was considering - help please!)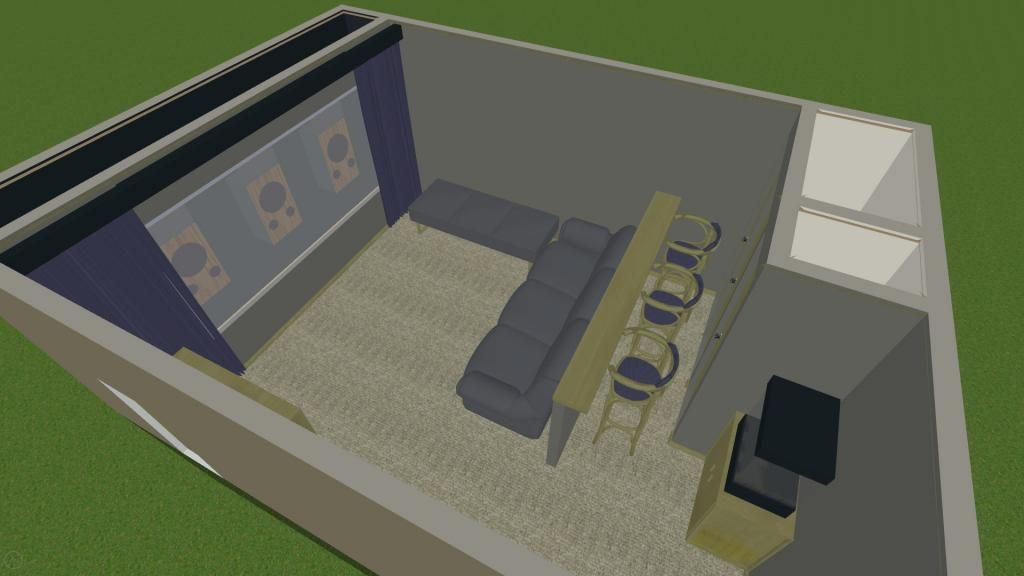 Things I need to buy:
1. Acoustically Transparent Screen - Seymour AV
2. Surround Speakers (Atmos? What is it?!)
3. Sectional Sofa
4. LED Lighting
5. Misc Building Materials
Known Issues:
1. I am not sure where to put the Tuba HT sub...maybe under the stairs with port facing room through speaker cloth grille? Maybe behind screen wall.
2. I need to re-frame the stairs support to provide better access to our 'storm shelter' area under the stairs
3. Viewing distance might be an issue with the screen size I am hoping for, but will need to do a mock setup to see
4. How to mount the AT screen so it can be removed/raise/etc. to access speakers and subs behind without major effort
I am really unsure of the timeline. I hope to have some basic stuff done (walls framed up & power/lights wired) by end of winter.
Any thoughts? Questions?