Discussion Starter
·
#1
·
Looking for a little advice on making a speaker change and in the process, relocating thme slightly. In the beginning, I ended up buying all tower speakers for my side and rear surround, the price was simply too good to pass up, where the towers were less than the surround speakers, so I thought it was a good idea. So, in the end, I ended up with,
Well, this was all great until I realized how much space the towers really toook up. I realized I screwed up and it really messes with the room, so I had to do something about it. It turned out that a buddy wanted to finish his basement and needed speakers, so I talked him into going with Klipsch as I was really happy with my set. Well, long story short, a local dealer had a BOGO half off special going, so I told my buddy I would give him 2 RC-62 towers, in exchange for 2 RS-52 surround speakers. I felt it was a win for us both. He gets the towers for less than what they would cost him and I get some surrounds to free up some space. In the end, I got the following: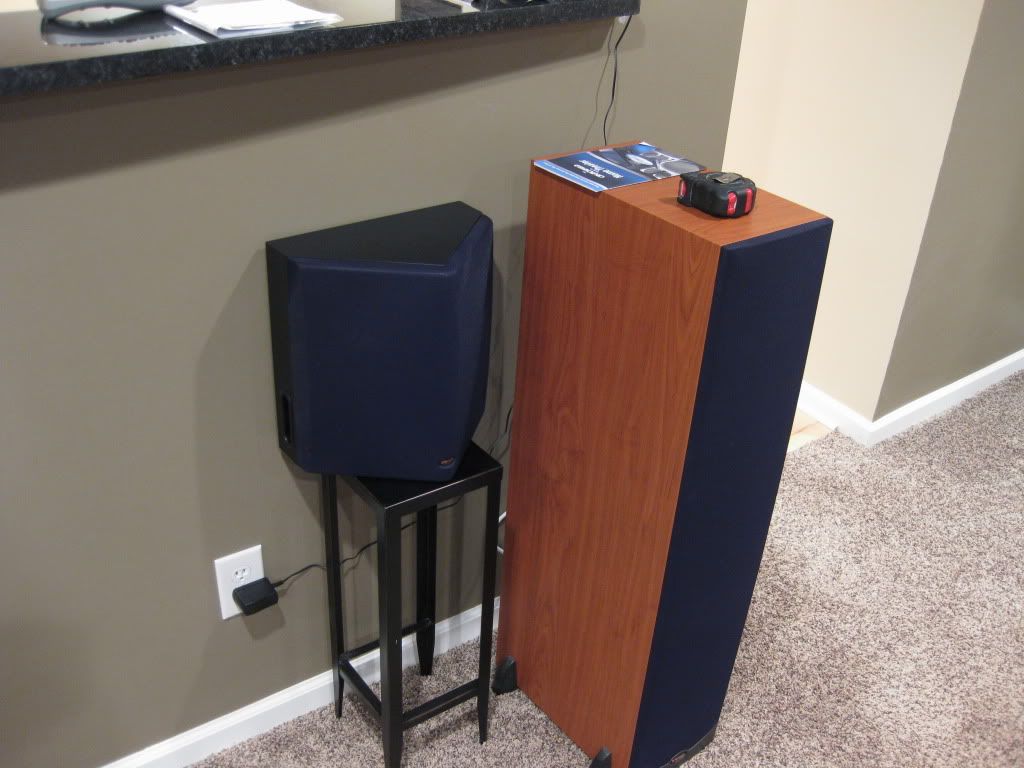 So, as you can see, it just made sense and cost me nothing. Well, the time has come around again this year. The same dealer is having the same special and I know someone else who might be in the market for some speakers, so I am thinking to do the same to replace the rear surrounds. The question would be placement. Am I better off flush mounting the Klipsch RS-52 to the face of the steps (speaking of the lowere vertical section) or can I cut them into the face (currently filled with OC703). I would remove some of the insulation and hid them completely. Currently I am going with the surface mount idea, but thought I would still ask for some opinion. In the event I did cut them into the face, I would need to move them closer together to move them away from the wall and I would be afraid that that would negatively impact my environment. Below is a picture of what the face of the steps looks like to illustrate the space I am woking with.