Discussion Starter
·
#1
·
My intentions for my Two Towers was initially Fi IB3 22's. 96% of the Vd of double the IB3 18's. I wanted the largest displacement driver possible for the projected $450 price tag. I wanted to build the largest enclosures possible per driver for the lowest Q and lowest tune possible with the largest port. The FR plot for the 18's is exactly what I want. Flat to 20Hz then a HUGE spike from 10-20Hz. I have been hoping the 22's would plot similar but louder, more displacement.
Well I need something now. I have been waiting 2 years for the 22's and Ive given up. I don't want to simply add 2 more 18's because that messes up my Q per driver, messes up my FR. I want the same but more.
Going from the 18's to the 22's shouldnt be a huge difference, double the VD but not double the Xmech. I push my IB3s to the full 41mm all the time and I cant hear it when I pass Xmax. So even though the 22's have double the VD cause theyre supposed to have 38mm Xmax vs the 18's 30mm, they have the same Xmech, same profile surround, so I won't have double the useable excursion. So already changes with 22's may only be marginal.
So Nick at Incrimiator is willing to build me custom 21's for $450. PLEASE no one assume they can get them for that, this was a personal talk a long time ago. Do not quote me. He would be using the Death Penalty motor with a softer suspension. I don't think very much Xmax, and I have no idea about parameters. So going from a 22" cone with 30mm Xmax down to 21" cone with less than 30, no good, especially for the same cost.
At one time I was able to get 21" Maelstrom-X's for $450, but it was too late. Again, do NOT quote me on that, that was special circumstances and has now passed. Going from 22" to 21" makes a difference. Period. 1" wide 21 inches around is a good amount of cone area. On top of that, its a flat/wide surround that I HATE rather than the tall 1/2 roll profile of the IB3s. 32mm is OK.
I decided to plot the 21's vs the 18's and I dont like it. Just like all the plotting I did in my van comparing "better" drivers to the IB3s, the larger motored drivers have the same issue in so much airspace: Huge spike at tuning, good, but a huge dip after, then climbs back up.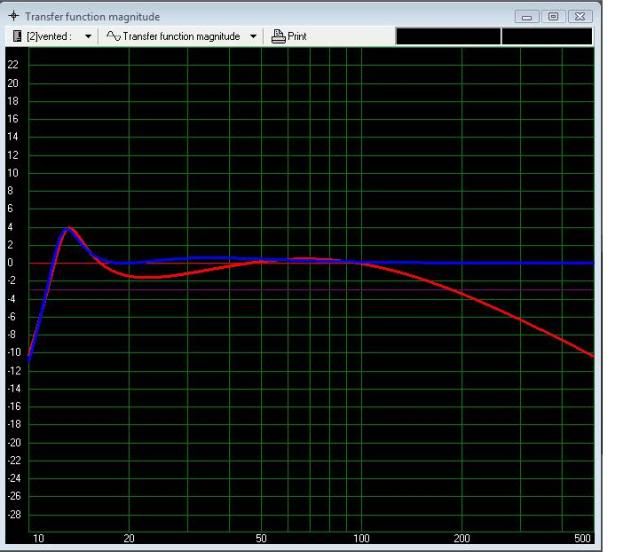 Overall the 21 is much louder though, as expected, and it would be popular cuz who doesnt love this driver
I been asking about having to bump up to 20" ports for the 22's, well they have more displacement that the 21's and the 21's getting out of hand with *only* 12"