Discussion Starter
•
#1
•
I have been a long-time Lurker round these woods. Been researching and reading and gathering ideas for my build. Before I go any further I want to "THANK" Everyone on here for sharing their ideas of their builds it helped me "STEAL" some ideas and incorporate it into my space. Well after 9 months of construction we finally were able to enjoy our unfinished basement area this last weekend for my wife's B-day slash Bar inauguration with a group of family and friends- (but shhhh don't tell my wife about the latter). I converted the basement space into a Multi-Purpose Room (future Theater, Bar, Lounge, Pool Room) just a good all-around room to hang-out with family and friends. I will try and post some pics and walk you all through it but I don't know if the work firewall will allow me to so bear with me as I build up the anticipation.
Here is my starting point and a lil background story: I believe that the "FULL" basement area is approximately 1500-1600 sq/ft Total - however the area that I was working on for Phase 1 will be maybe 1000-1200 of that.
Unfinished raw area with "Roll" insulation on Concrete "Poured" walls, and raised ceiling height. It's really funny how this all fell into place. We have been in this house for almost 4 years now but last year a buddy of mine was moving and couldn't take his pool table with him so he asked me if I was interested in it. So $500 later I was the proud owner of a "VERY" nice 3 piece slate Pool table with Pool light and Pool table Accessories (which you will all see later in the pics). So I had the table - professionally dismantled and reassembled in my "Unfinished" Basement. So after a few months of hanging out there with family and friends enjoying the great game of pool, my wife said "You know what - We should really think about finishing this area" and it all went downhill from there. We had a quote to finish that space and it was way out of our price range that we could afford so I told her - Hey "I" can do this myself! However major caveat here: I've "NEVER" done anything like this before.
But I vowed to learn and do it myself in order to save the money and be able to enjoy the space. So just my luck besides the many hours of trolling on this site and watching Utube video's - I actually had a close friend of mine (same guy I bought the pool table from) who lives not too far from me which was building a Man-Cave in an unfinished Garage area in his house and basically had to do everything I needed to do. So I promised him "Free-Labor" throughout the entire construction as long as he taught me how to do it all. We had an agreement that he would teach me the ins and outs with plenty of Hands on experience, Free food, Free Frosty "Adult" Beverages and Free Cigars - so I can't lose there. I get to learn a trade plus eat, drink and smoke for Free - I think I was the real winner in this deal. LOL! So I was able to get many hours of OJT at his house/project and then I would come back to my house and implement it all myself in my project. OK so I know you guys are thinking - damn this guy is YAPPIN away - so here are some "BEFORE" pics for your viewing pleasure.
Before pics:
Media/Storage Closet:
Screen Wall:
Phase 2:
will consist of my workout room, full bathroom and guest suite:
Before - Full basement view from the Patio entrance: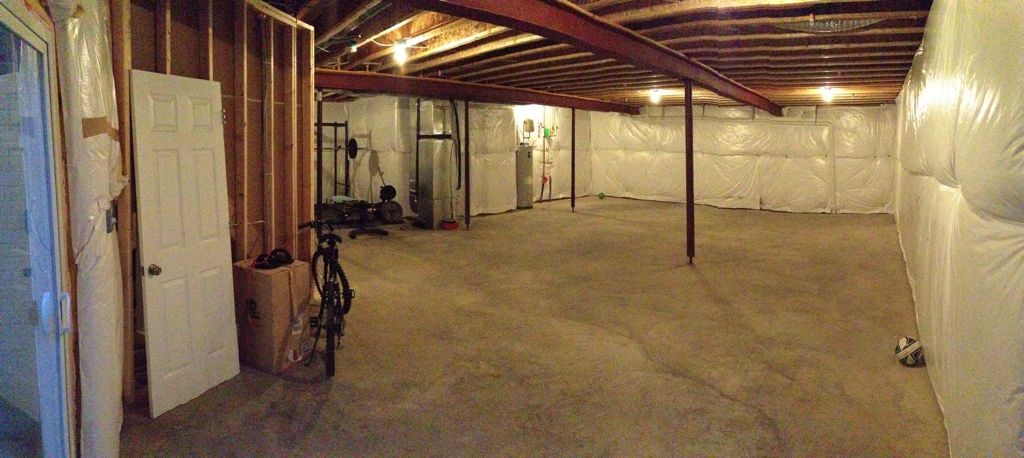 Before - Full basement view from the far inner corner: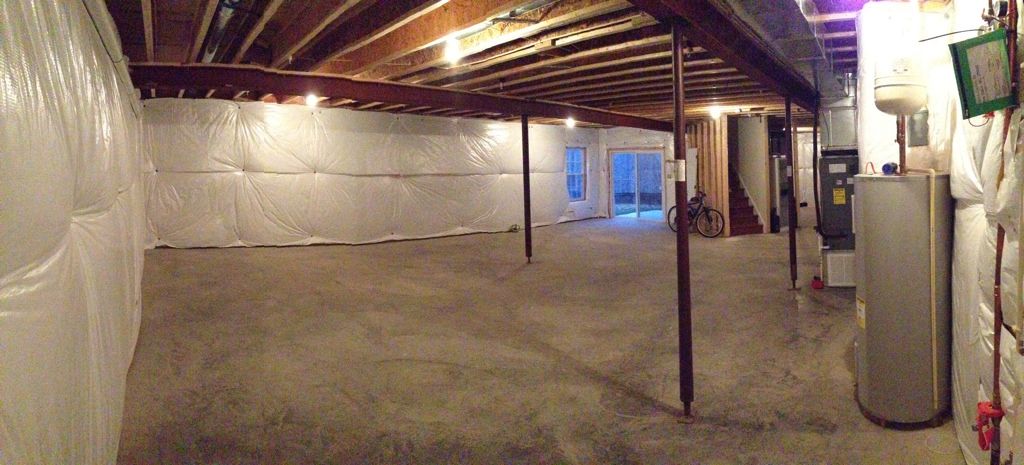 Before - Full basement view from the other inner corner:
Before - Full basement view from Workout area:
Now back to the story:

For those that don't want to read all of this crap and just want to get to the "GOOD" stuff - The PICS - just scroll to the bottom.
So while in the planning phase we originally had decided that we wanted a dedicated theater room and then the other space would be for the pool table / bar area. But I decided that it would be a waste of the space to do that (I know - I know it went against my better judgment but hear me out here)and instead to create an open-concept area for all to enjoy. I've been to dedicated home theaters before and they are great for a lil while but then when you are over capacity it kinda sucks cuz you have people spread out in different areas and then its like a lottery as to who gets to enjoy the theater room so then I decided to place the screen on the wall where it could be viewed by anyone in the space regardless of whether you are at the bar or playing pool or actually sitting in front of the screen itself. This way when there's the fight party's or super bowl parties we can have everyone enjoy the Big Screen. Speaking of which the Screen will be a "Homemade" (by me of course) 120-129" Spandex screen.
So after a couple hundred dollars later I framed the full space out, and then started on the flooring - I decided since this was going to be a large open space that the best flooring (Although "NOT" the easiest) was what was actually already there - Yep you got it right "Concrete". So I "Again" convinced the wife to let me stain the concrete and went to work. However I didn't want no boring single color job so "again" not making it easy on myself I selected a multi-color choice. DISCLAIMER: you will notice 2 things in my story that are consistent throughout; 1. I had to convince my wife "A LOT" as I was building this project because she was 99% unsure 100% of the time (as I am sure a lot of you also had to do) and 2. I did not make it easy on myself or took the easy way to do anything and that was because I figured since I am doing all the labor might as well step it up because I am still saving a lot of money. LOL. Additionally, I don't know why I didn't leave the flooring for last - but again I didn't make it easy on myself, although I will say this - doing a concrete stain floor was a lot of work and with a lot of water and chemicals being splashed around so that is the main reason why I decided to do it before drywall so that I would not get ruined. So I did the floor then covered it with Resin Paper during the rest of the construction.
Anyways, the "Unfinished' space also means that the ceiling had exposed Beams, with of course the plumbing, vents, wiring etc. so after a lot of groveling I convinced my wife to leave it as is "Exposed" however but let me paint it black. She agreed and now she loves it, not only her but everyone that steps foot down there also agrees that it looks great. I know this will probably be an "Acoustic" nightmare but I knew that going into it when I decided not to have a dedicated Theater space. Speaking of which, I pre-wired for a 5.2 setup, (figured with this large of a space I will need 2 Subs) and I could not decide whether I would need a high center channel or a lower one so I pre-wired for both. However there are also 2 Audio zones - the main zone for the big screen and then I pre-wired for a bar zone (2 speakers overhead) as well.
Lighting consists of Can lights with LED Dimmable lights on a dimmer switch but the lighting was also broken down into 3 Zones; 1. Theater area, 2. Bar area, and 3. Pool Table area. Since we are talking wiring might as well keep it on that topic. I went a lil overboard with the electrical and with good purpose though. I wanted to make sure I had dedicated circuits for "CLEAN" home theater (Projector, Subs, receiver), Lighting zones , Bar zone with GFCI and under cabinet fridges circuits and for some fun; I have outlets up high for my Neon Bar signs in the Bar area, then I have outlets up high in the theater room for backlit theater poster frames (which I will build in the near future) just like in the theaters.
Then unfortunately, we had a center support steel beam right smack in the middle of the basement so I decided to use it to my advantage. I framed the lower portion of it to match the walls and since that beam was so close to the pool table area I decided to make a table out of it in order to keep my guests from putting their drinks on the pool table. And I had a great idea that I stole from one of my recent cigar outing. I saw a table that was covered in cigar labels and I thought DAMN that is too cool so I decided that this would be one of those places where I would put my touch. So I have a bag of the cigar labels that I have smoked throughout and I figured this was the perfect place to use them. I also put a corner table on the opposite side of the pool table - AGAIN for drinks.
While trolling through here I also saw some members who had created the "IN-WALL" dvd shelves and audio rack and I thought that was also too cool so I had to incorporate that into my space.
For the bar I wanted something cool but funky so I used unfinished wall shelves (for the appropriate dimensional needs in the base of the bar) and we stained them dark chocolate. Then I wanted a "WET" bar but there was no way I wanted to bust up the concrete to run drain pipes so I spoke to a buddy of mine who's a Plumber in NYC and he told me about the Liberty Pumps which they use all the time in the city for exactly this purpose; create drains where it would be costly or timely to do. so I went to work in doing research and installing such a creature and lemme tell you it is worth its weight in gold!!! Once you figure out the plumbing -its all cake. I used 3 Maple Butcher blocks for the bar top, prep top and bar back and then used the leftover cuts on the liquor shelving on the back wall. I also cut a hole in the prep top and created a beer chute, another one of those too damn cool not to do things. Black iron pipe was used to support the bar top and create a foot rest ledge and I also used that as supports for the shelves. Anyways enough with my Yappin AGAIN. Here are the pics.
Wet-Bar under Cabinet Liberty Pump setup:
Center beam /Cigar table: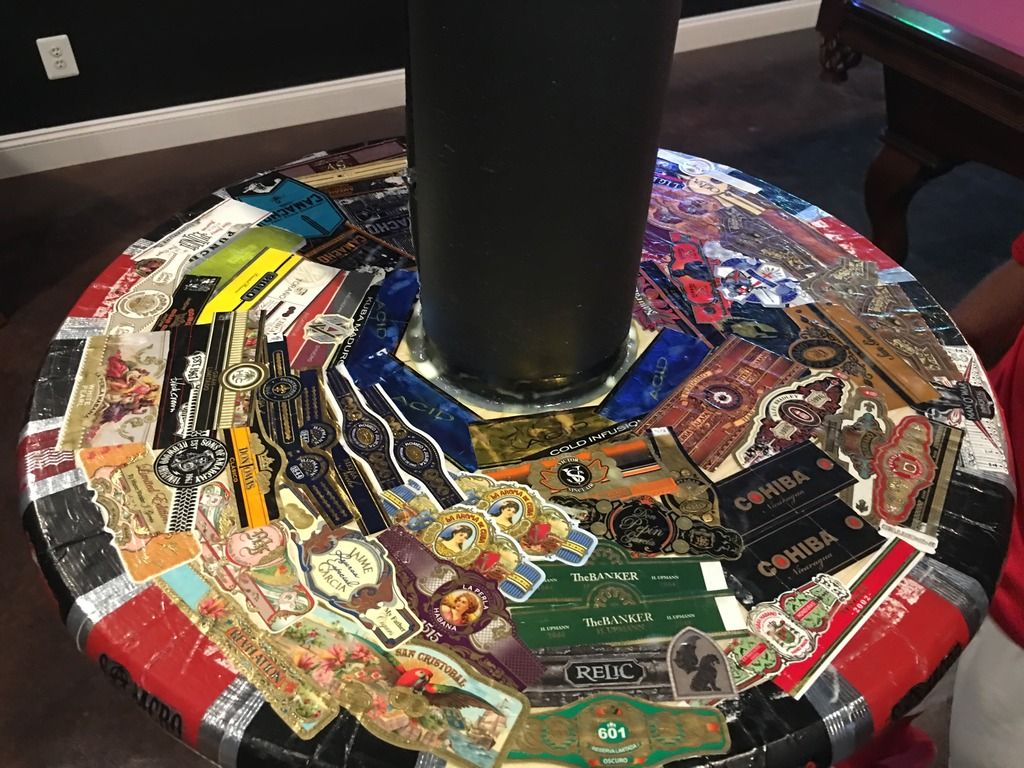 Corner wall table: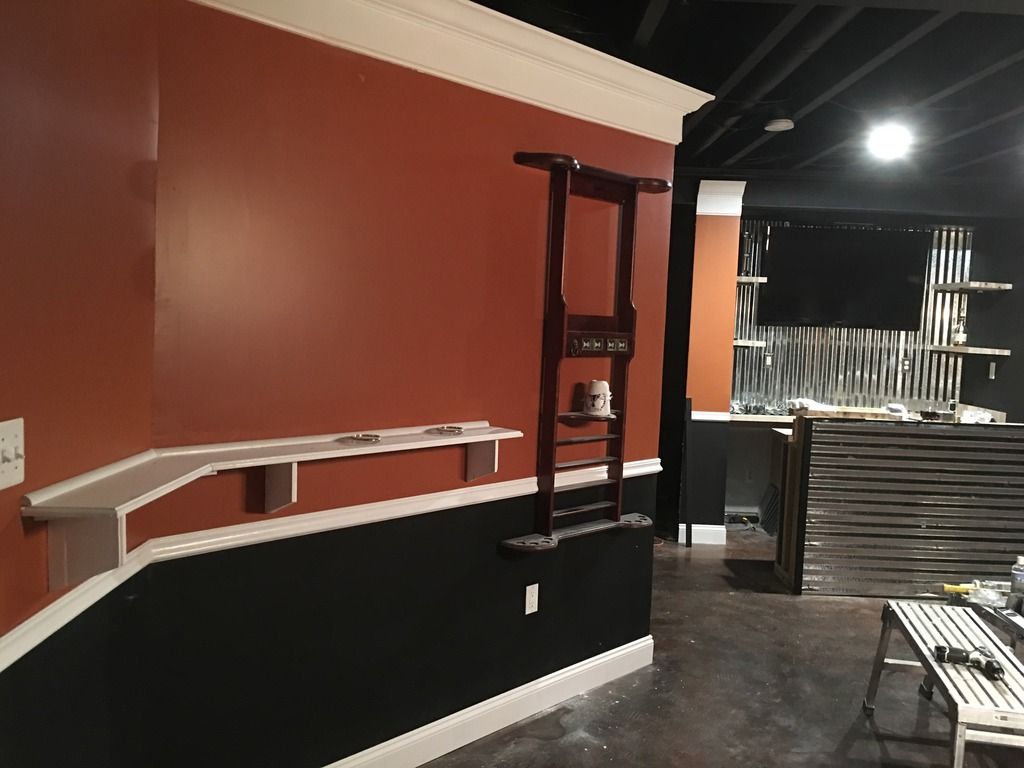 Crown Molding work:
Crown Molding with LED Backers: (I know kinda Dusty)
LED - Opposite side: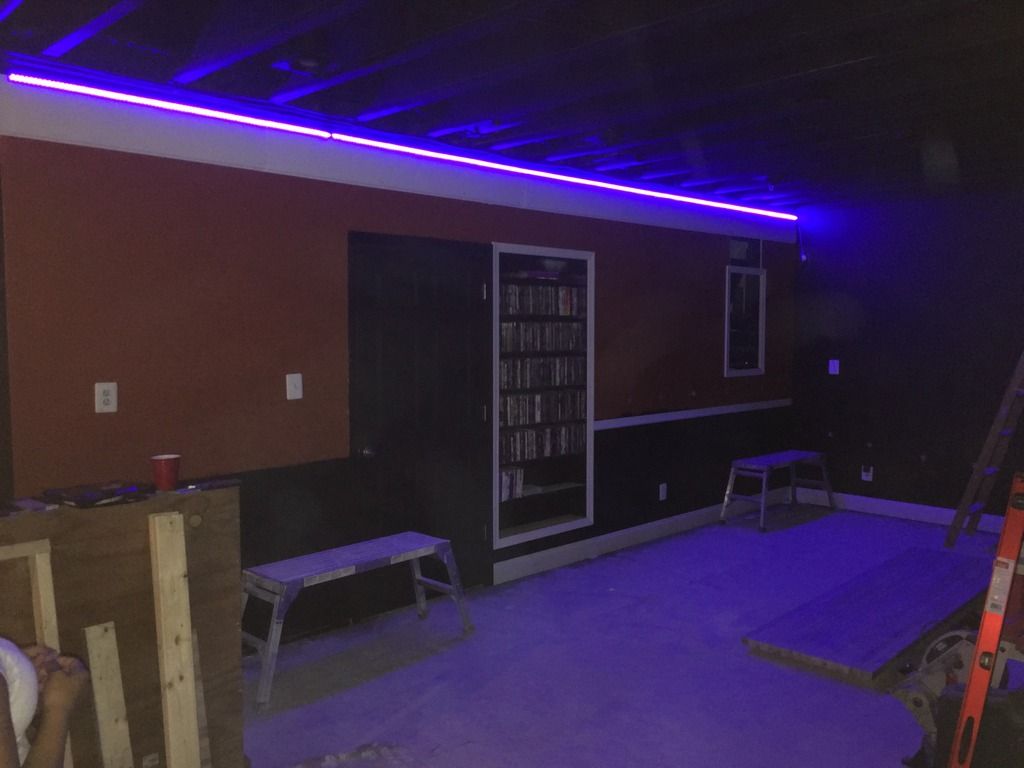 In-Wall DVD Shelf and A/V Rack:
Black Iron Pipe: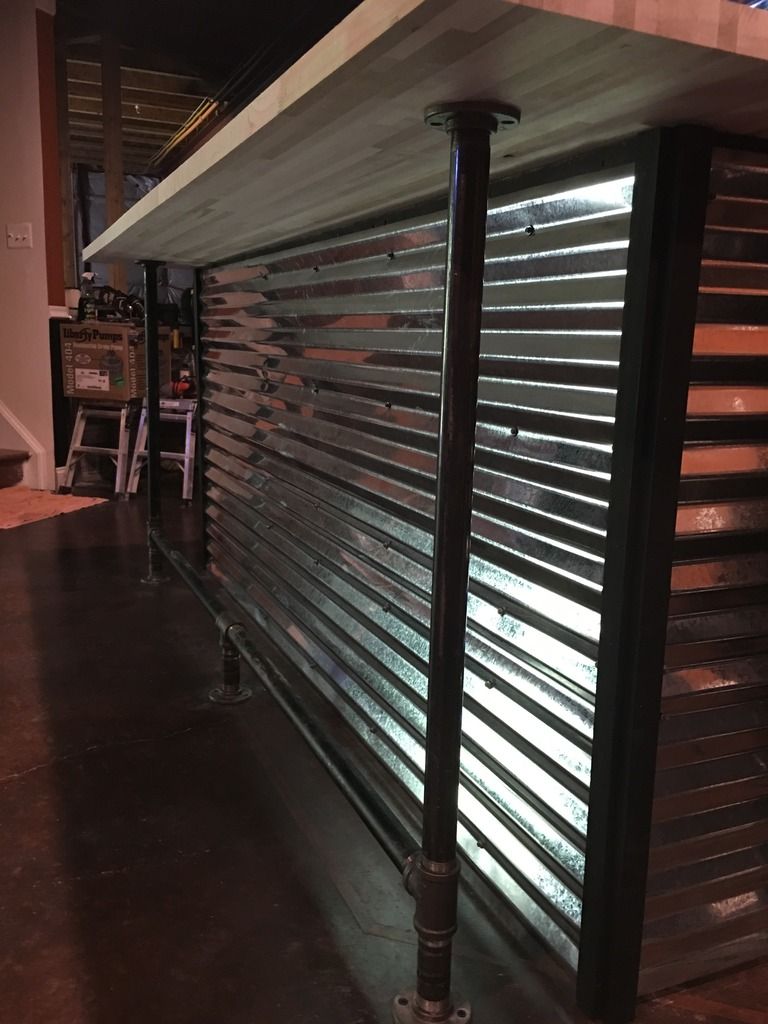 Pool area: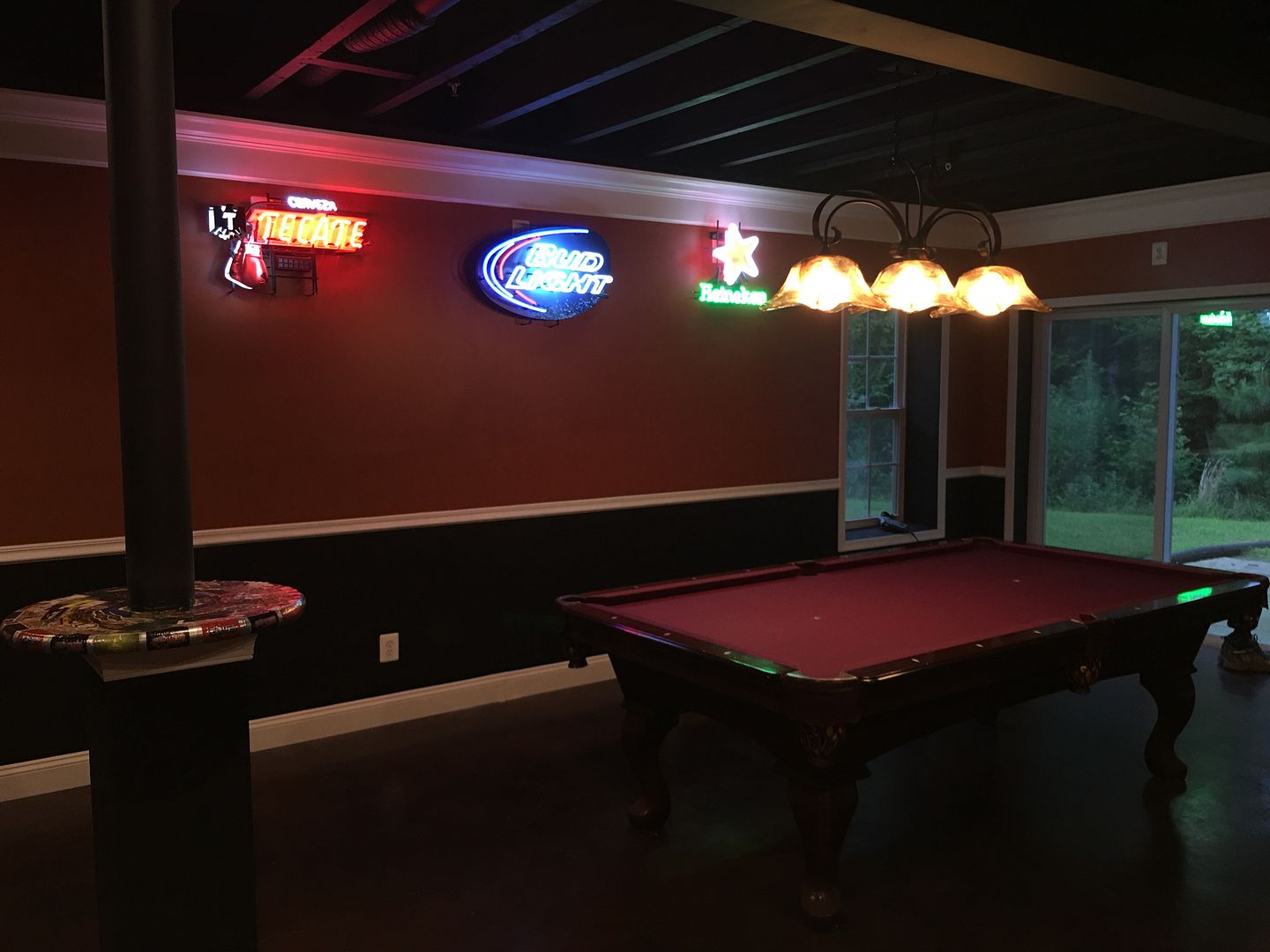 Bar Area: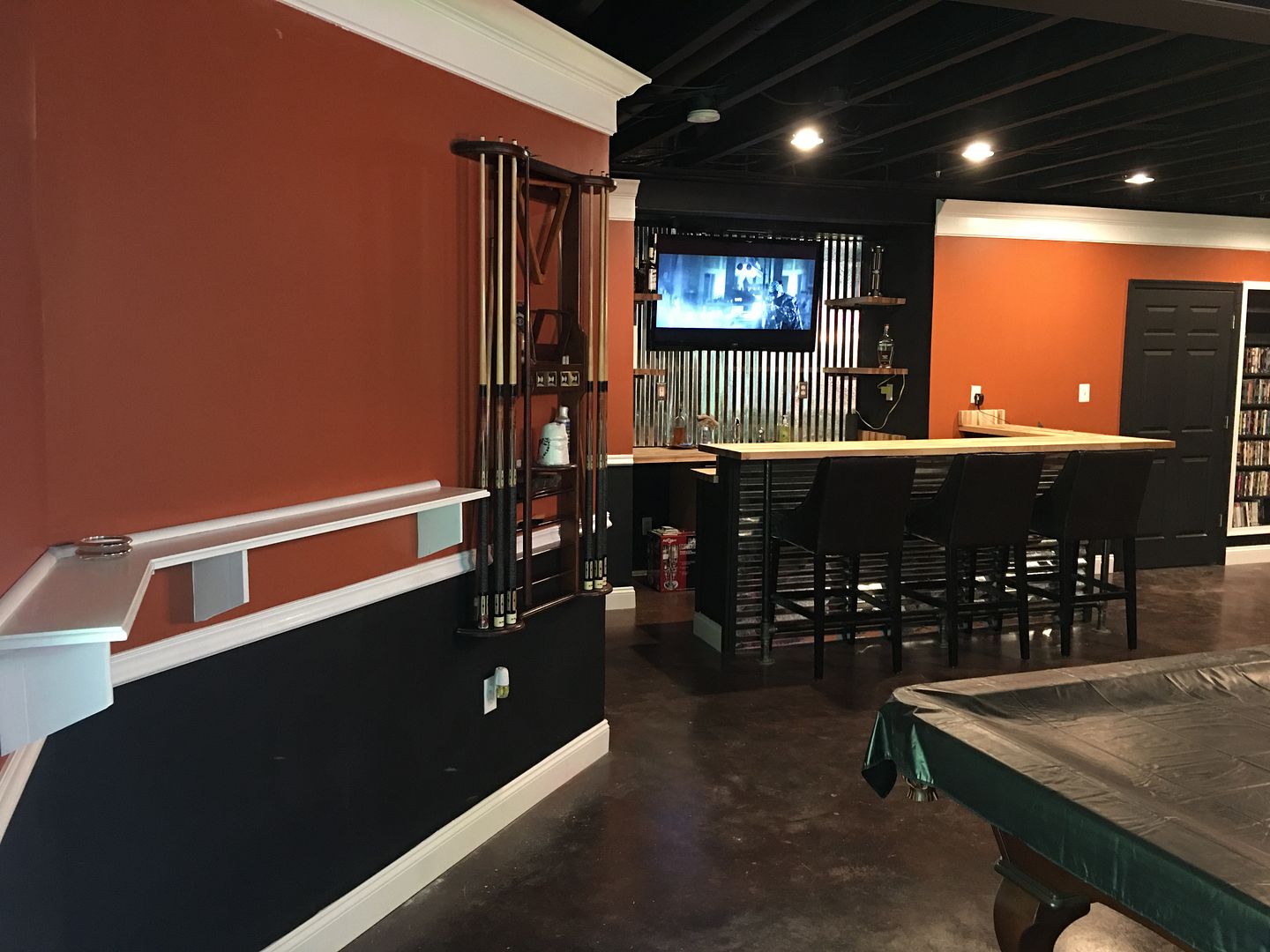 After - Full basement view from the Patio entrance:
After - Full basement view from Workout area:
Basement view from bar area:
After - Full basement view from the far inner corner:
After - Full basement view from the other inner corner: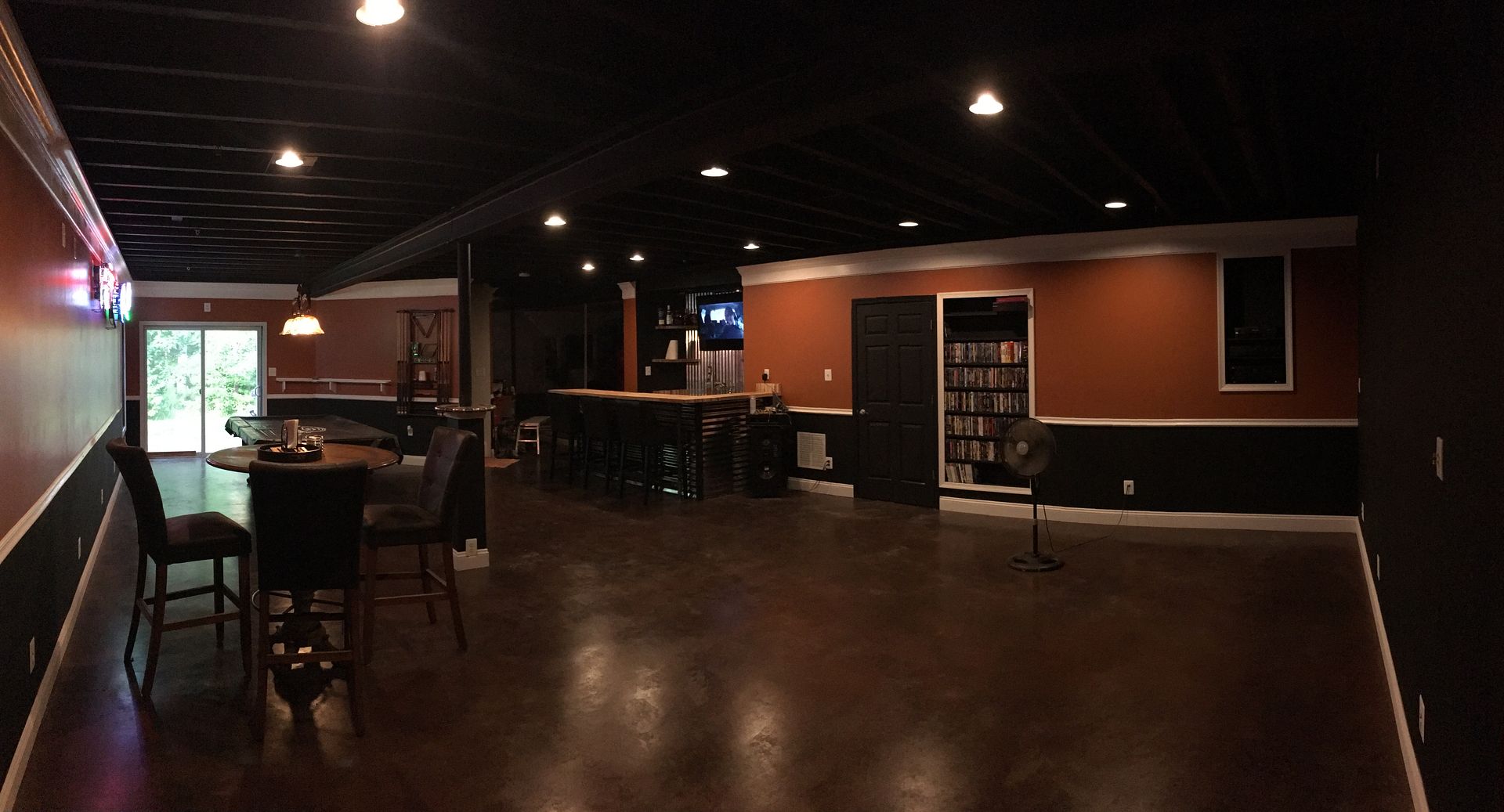 Screen wall - the screen will be placed within all the white cover panels (Approx 120-129" Spandex Screen), that white box on the lower right side has since been painted black but that is a plumbing cleanout access panel however in that right area I plan to install a Propane Fireplace for those toasty nights when watching movies :
Testing the Beer Chute on the Prep - top: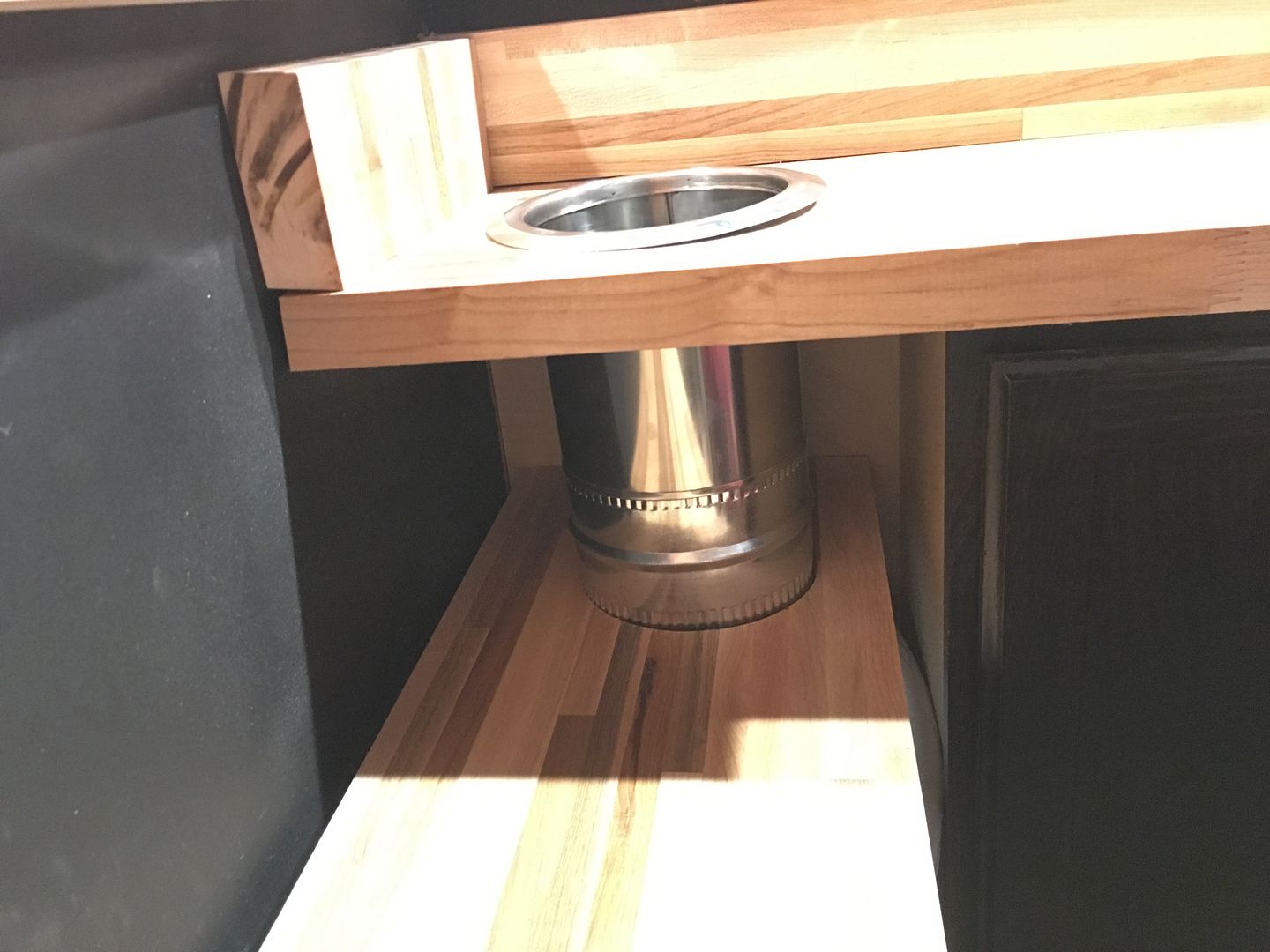 This was my DJ Station during my wife's bday Party:
Can't have a party without any lights:
Bar back:
Hopefully you guys like what you see and If you see anything in the above pics and it was "Borrowed" from your project - I want to "THANK YOU" for helping me be "Creative" in my build. And if there is anyone that has any questions or if you need specific pics of anything - let me help you as much as this forum has helped me.